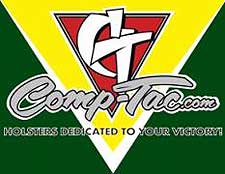 Houston, TX -(AmmoLand.com)- Comp-Tac Victory Gear, a leading provider of both magazine pouches and concealed carry holsters has adapted their popular Single Magazine Pouch to be compatible with the PLM Attachment.
The Comp-Tac Single Magazine Pouch offers one-of-a-kind access to spare magazines. Made of all Kydex, this magazine pouch holds a spare magazine securely but offers unparalleled smoothness on the draw. With a retention adjustment screw, users can set the magazine pouch to hold tighter or loser depending on their desire. The magazine pouch is also reversible, allowing magazine to be carried bullets forward or rearward. The magazine pouch is legal for all competitive shooting sports and is designed with a low profile making it perfect for competition or concealed carry use.
The PLM Attachment makes the Comp-Tac Single Magazine Pouch easy to use and more versatile. With the push of a button, the single magazine pouch can be added to belts or bags. A simple slide of the push-button, locks the mount, giving the most secure hold possible.
"The Single Magazine Pouch has been a go to product for Comp-Tac users since we originally came out with it. Our updated design has given the magazine pouch reversibility and made the draw even smoother. The PLM is the icing on the cake making this magazine pouch adaptable to any situation and perfect for those who wish to have their magazine available for every day carry," explained Gordon Carrell general manager at Comp-Tac.
The Single Magazine Pouch with PLM Attachment is available in both right and left hand. Colors include: black, blue, red, pink and purple. Currently compatible with over 100 different firearm makes and models. MSRP on the magazine pouch is $42.99.
For more information on the full line of Comp-Tac holsters and gear, visit www.Comp-Tac.com, follow Comp-Tac on Facebook at www.facebook.com/CompTac, Twitter at @CompTac or visit our Blog.
About Comp-Tac Victory Gear
In 2000 I started Comp-Tac with the intention of designing holsters of the highest quality for defensive and competition shooting. I started off with the Locking Paddle and over the years have designed over 30 products with 92,000 possible variations to accommodate your lifestyle and needs. Comp-Tac has grown from a one man shop to a business with dozens of employees. What started in my garage has grown into a drafting room, production line, customer service department, shipping department, and leather shop. Thanks to the great support of our customers and through their input we continue to grow and refine our product line. Whether you are competing for fun or in the fight for your life, no company offers more holsters dedicated to your victory.
For more information, please visit www.Comp-Tac.com.