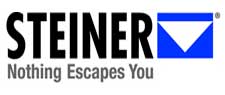 Greeley, CO -(AmmoLand.com)- The new Steiner Miniscope offers incredible clarity and bright images in a new pocket-sized design.
With this 8x22mm monocular, no matter where you go, there is no reason to miss any of the action or adventure. Measuring just 2" high by 2" wide, it is small enough to travel in a pocket, purse or pack.
The 8x magnification brings you closer to the action or the view and makes it ideal for hiking, traveling, sporting events, concerts or the theater. Featuring Steiner's Sports-Auto-Focus system, once the Miniscope is focused for your eyes, everything from 65 feet to infinity will be clear and sharp. High-Contrast lens coatings deliver the same clarity and brightness found on much larger optics.
It features an ergonomic design that's easy to hold and use with just one hand. Weighing in at just 2.8 ounces, it won't slow you down.
"The Steiner Miniscope was designed for today's active lifestyle and people on the go," says Tom Frane, VP of Sales, Marketing and Business Development. "The compact design and ultra-light weight make it easy to carry, easy to pack and inexpensive to own. Although it's our smallest optic, it features the precision, quality and reliability found on all Steiner optics."
The new Miniscope comes with convenient carrying case with belt loop. The MSRP is $114.99. It is available at Steiner dealers nationwide.
About Steiner-Optics
Headquartered in Germany, Steiner-Optics has been widely acknowledged as a world leader in the manufacturing of high quality optics since 1947. In addition to the outdoor, hunting and marine markets, Steiner provides products to military and law enforcement worldwide. Allied forces around the world — including the U.S. Army and countless law enforcement agencies — have made Steiner their optics of choice. For more information, contact: Steiner-Optics, 920 54th Avenue, Suite 200, Greeley, CO 80634; call (970) 356-1670 or toll free (888) 228-7747.
Visit the company website at www.steiner-optics.com or Facebook page at www.facebook.com/SteinerOptics.