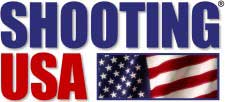 Nashville, TN -(AmmoLand.com)- Shooting USA – National Matches at Camp Perry  
It was Teddy Roosevelt's vision to encourage civilian marksmanship. More than 100 years after, the Camp Perry National Matches are still fulfilling the mission. Plus, the multi-gun match that's all head-shots, Hornady's Pandemic in the Heartland. And, the venerable '03 Springfield is one of History's Guns.
Shooting USA's Impossible Shots – Chasing His Dream
Shotgun shooter Micah McMillan has risked everything to be on Impossible Shots. He tries an aerial shotgun version of an Annie Oakley shot hoping to become the next great exhibition shooter. Plus Byron Ferguson tries skeet shooting with his longbow.
AIR TIMES BY TIME ZONE
The Shooting USA Hour Wednesday:
Eastern Time: 3:00PM, 9:00PM, 12:30 AM Thursday
Central Time: 2:00 PM, 8:00 PM, 11:30 PM
Mountain Time: 1:00 PM, 7:00 PM, 10:30 PM
Pacific Time: 12:00 Noon, 6:00 PM, 9:30 PM
Shooting USA is listed as a one-hour show in your cable menu.
Shooting USA's Impossible Shots:
Wednesday:
Eastern Time:  1:00 PM, 11:30 PM, 3:00 AM Thursday
Central Time:  12:00 Noon, 10:30 PM, 2:00 AM Thursday
Mountain Time: 11:00 AM, 9:30 PM, 1:00 AM Thursday
Pacific Time: 10:00 AM, 8:30 PM, 12:00 Midnight
Stay Connected
Be sure to "Like" Shooting USA on Facebook for behind-the-scenes coverage: https://www.facebook.com/JimScoutten.ShootingUSA
And, on Instagram!
https://instagram.com/shootingusa
Jim
Defending the 2nd by Example in the 22st Year
[email protected]
About Shooting USA
Jim Scoutten, America's Most Watched Firearms Reporter, has been on the beat for 14 years, reporting the stories of the Shooting Sports and the firearms Industry. The show produces a series of popular segments focusing on historical guns, the personalities in the sport and industry, insider reports from gun tests, and practical tips from shooting sports pros. The show appeals to shooting sports enthusiasts of all ages and skill levels by providing practical tips on safely handling, modifying and repairing their favorite guns.
For more information, please visit www.ShootingUSA.com.