Grass Roots North Carolina Wants You! In The General Assembly.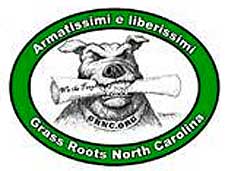 North Carolina –-(Ammoland.com)- Could you do a better job in the North Carolina General Assembly than what we've seen over the last couple of years? We think so.
Preparation Meets Opportunity
The Bill of Rights is not a list of American privileges granted to citizens by Congress, only to be protected at the pleasure of the courts. Rather, the Bill of Rights enumerates human rights which are the birthright of everyone born on this planet. To varying degrees, these rights are muted by the power-hungry around the globe, but they cannot be legitimately granted or withdrawn by any earthly entity.
If the last three sentences made perfect sense to you . . . YOU ARE INTELLECTUALLY PREPARED!
If you think you can do a better job in the NC General Assembly than those who are currently there, would you like to prepare for a run and create your own "luck" next year? Well . . .
THIS IS YOUR OPPORTUNITY!
The following districts are being vacated by retiring members:
NC House Districts:
Rep. Paul Tine (U) – District 6 (Beaufort, Dare, Hyde, Washington)
Rep. Paul "Skip" Stam (R) – District 37 (Wake)
Rep. Leo Daughtry (R) – District 26 (Johnston)
Rep. Jacqueline Schaffer (R) – District 105 (Mecklenburg)
Rep. Rayne Brown (R) – District 81 (Davidson)
NC Senate Districts:
Sen. Stan Bingham (R) – District 33 (Davidson, Montgomery)
Sen. Josh Stein (D) – District 16 (Wake)
Sen. E.S. "Buck" Newton (R) – District 11 (Johnston, Nash, Wilson)
The eight listed above represent an almost 5% turnover, and there are even more to come because of the accelerated primary election this coming March.
Filing is from December 1 to 21, 2015, so you don't have a lot of time to make this happen if you are going to run next year, and make the difference you want to make in Raleigh. It's important to note that running for an open seat is much, much easier than running against an incumbent.
Check out the districts online and see if you qualify to run in any of them. If you think you can do better than those currently in the General Assembly, here's your chance to prove it—by doing it!
YOU CAN'T GET ELECTED IF YOU'RE NOT ON THE BALLOT
To follow up, see below, under 'Immediate Action Required.'
IMMEDIATE ACTION REQUIRED!
IF YOU'RE SERIOUS ABOUT A CANDIDACY: contact GRNC President Paul Valone. Serious and worthy candidates will receive assistance from GRNC-PVF.
Click here to send a message to GRNC's President (or go to: http://www.grnc.org/contact). Select "GRNC President" as the recipient.
FOR MORE SPECIFICS ON FILING FOR CANDIDACY: contact your county's board of elections.
About:Grass Roots North Carolina is an all-volunteer organization dedicated to preserving the freedoms guaranteed us by the Bill of Rights. Our main focus is the right to keep and bear arms. GRNC was central to drafting and passing North Carolina's concealed handgun law and since that time has continued to push for improvements to gun laws. Visit:www.grnc.org