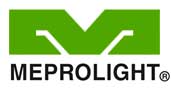 Farmingdale, NY -(AmmoLand.com)- The Meprolight R4E Optimized Duty Sight is now available at www.themakogroup.com/r4e.
The ultra-bright tritium-powered sight maintains bright illumination for 15 years and is designed to improve aiming capability and increase target acquisition speed.
The R4E was uniquely designed in close collaboration with two U.S. Army Special Operations veterans who set out to design the brightest handgun sight available based on an improvement to similar technology used in the R4 Evolution ODS (Optimized Duty Sight). With the Mepro R43 optimized duty sights, no law enforcement or military personnel will ever be caught in the dark.
To learn more about the Mepro R4E, watch the video below from The Mako Group! In the video, you'll learn about the unique design and get to see the sights in action. The rear sight features two horizontal lines and one vertical line, which line up with the tritium dot and vertical line on the front sight.
The additional lines create a reticle effect and cause the eye to naturally focus on the front sight, which is critical in defensive shooting situations.
About The Mako Group:
The Mako Group is the official U.S. importer of Meprolight, an Israeli-based weapon accessories manufacturer specializing in night sights and optics that are designed for and battle tested by the Israeli Defense Forces. The Mako Group is the exclusive U.S. distributor of the finest tactical equipment and weapon accessories that have been proven in combat. Products designed for the Israeli Defense Forces, Israeli Security and Israeli Police by Meprolight, FAB Defense, E-Lander Magazines, Front Line Holsters and RTS Target Systems, are fully available to the U.S. market. Please "like" The Mako Group on Facebook and follow us on Twitter to stay up-to-date on the latest news and products.
For more information, visit www.themakogroup.com.