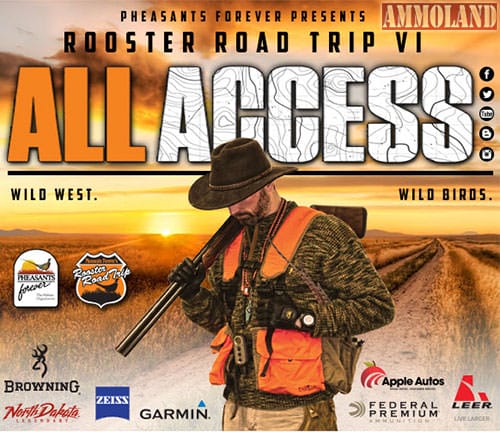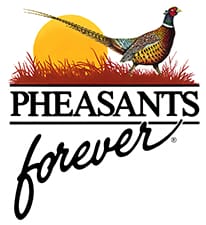 St. Paul, MN -(AmmoLand.com)- Pheasants Forever's Rooster Road Trip, an annual digital showcase of pheasant hunting on public land habitat & access projects, takes to the field October 19th through October 23rd.
This year's tour heads to the uplands of Montana and North Dakota, states which boast an array of publicly-accessible lands, many of which Pheasants Forever has played a significant role in creating, either through land purchase, restoration or legislation.
"The dream of heading to wide-open country of the West and hunting endless fields of cover – without having to ask for permission – is shared by pheasant hunters across the country," says Anthony Hauck, Pheasants Forever's director of public relations.
Rooster Road Trip "All Access" aims to combine the adventure of the journey with insight into how those lands become open. From Upland Game Bird Enhancement Areas and Block Management Areas in Montana to Private Land Open to Sportsmen and state Wildlife Management Areas in North Dakota, all hunting will take place only on publicly-accessible land.
The Rooster Road Trip hosts – Pheasants Forever's Hauck, Andrew Vavra and Logan Hinners – will team up with local Pheasants Forever experts and members to share the experience online through daily blog posts, photographs and video.
Rooster Road Trip "All Access" will focus on how important pheasant hunters who join Pheasants Forever as members are to creating and improving publicly accessible habitat. Public land habitat work ranks high among the motives for Pheasants Forever members and volunteers to be involved with the organization, and since forming in 1982, Pheasants Forever has helped permanently conserve more than 180,000 acres through land acquisition projects. Any follower who joins Pheasants Forever as a member online through the Rooster Road Trip webpage will receive an exclusive Browning Prism II Browning Knife & Sharpenercombo and also be entered to win a new Browning 725 Citori 12 gauge over/under shotgun (in addition to the standard benefits of Pheasants Forever membership).
"The Rooster Road Trip is a fun way to illustrate the power of volunteer engagement in the cause of conservation," added Vavra. "Last year's Rooster Road Trip generated 550 new Pheasants Forever members and tens of thousands of sponsorship dollars for the organization's conservation mission. We're optimistic this year's effort will be an even bigger success, ultimately leading to more habitat access for future generations of pheasant hunters."
Follow Pheasants Forever's Rooster Road Trip 2015 online at:
Rooster Road Trip 2015 / Facebook / Twitter / Instagram #RoosterRoadTrip
Rooster Road Trip 2015 Sponsors:
Rooster Road Trip 2015 sponsors include Apple Autos, Browning, Federal Premium Ammunition, Garmin, LEER, North Dakota Tourism and Zeiss.
About Pheasants Forever:
Pheasants Forever, including its quail conservation division, Quail Forever, is the nation's largest nonprofit organization dedicated to upland habitat conservation. Pheasants Forever and Quail Forever have more than 140,000 members and 700 local chapters across the United States and Canada. Chapters are empowered to determine how 100 percent of their locally raised conservation funds are spent; the only national conservation organization that operates through this truly grassroots structure. Since creation in 1982, Pheasants Forever has spent $577 million on 489,000 habitat projects benefiting 12 million acres nationwide.
For more information, visit www.PheasantsForever.org.