By Marc Cammack

USA –  -(Ammoland.com)- Many famous firearms were used in World War Two. The United States produced M1 Carbine and M1 Garand.
The Germans had the K98 Mauser bolt action Rifle, the Russians used Mosin Nagant rifles, and the Japanese had the Arisaka bolt action.
The British Army's most famous rifle of the conflict was the Lee Enfield No 4 Rifle Mk 1 in .303 British. The No. 4 Enfield was the evolution of an older design and was used in many famous battles such as D-Day and Arnhem.
Lee Enfield No 4 Rifle
The venerable British Enfield MKIII in .303 British performed well during World War One. This rifle's bolt design enabled soldiers of the British Empire to put out high volumes of accurate fire. The Enfield's 10 shot magazine was also double the magazine capacity of the German Gewehr 98 Mauser 8mm rifle.
However the MKIII Enfield had its faults, namely its sights. The MKIII had open sights, which were inferior to peep sights for use in combat.

From 1922 to 1924 a new rifle was produced, that had peep sights called the No. 1 Mk V. 20,000 of these rifles were built for troop trials by RSAF Enfield. The Mk V's rear sights did not stand up to heavy use and it was decided not to adopt the gun as the new infantry rifle. The No. 1 Mk VI rifle was prepared for testing in 1931, and was made in limited numbers by the Royal Small Arms Enfield Factory. Also in 1931, the Mk VI became known as the No. 4 rifle.
The No. 4 featured a peep sight that was more rugged than the Mk. V sights. It also had a heavy barrel and a spike bayonet. Further trials of the No. 4 were carried out to work out issues with the rifles, and the rifle was adopted for use by the British Army in 1939. Despite the adoption in 1939, mass production of the No. 4 rifle didn't begin until 1941. During World War Two the No.4 saw widespread use by British forces.
The weapon was used in all theaters of war in which the British fought. The weapon performed well, and was reliable just like the MKIII Enfield which it replaced.
The Lee Enfield No 4 Rifle Mk 1 was produced by a variety of different manufacturers in England. These included ROF Fazakerley, BSA, and ROF Maltby. Wartime guns all had letter prefixes, but each maker had a different number after the prefix to differentiate manufacturers. Maltby guns had a "1" after the letter prefix, Fazakerley guns had a "2", and BSA generally a "3". Some BSA guns lacked an alphabetic prefix, and other BSA guns had dual letter prefixes that did not start with a "3".
After the war ROF Fazakerley continued production of the No. 4 Mk 1, producing rifles as late as 1948. These rifles were marked with the month and year of production and ROF on the left side of the receiver. These guns' serial numbers began with PF prefixes.
Lee Enfield No 4 MK 1 Rifles were produced in both Canada and the United States during World War Two. The majority of these North American produced rifles were No. 4 Mk 1* rifles meaning that the bolt head was released through a slot that was cut in the rear of the receiver instead of a catch below the rear sight. The No. 4 Mk 1* was only produced in North America, and this change helped in simplifying production of the No. 4 Enfield rifle.
Canadian production of the Lee Enfield No 4 Rifle began in 1941 at the Long Branch Arsenal in Toronto. Wartime production of the No. 4 ceased in 1945, but the rifle was later put back into production from 1949 until 1950. Long Branch made over 900,000 No. 4 Enfield rifles in total. Savage produced the No. 4 Mk1* rifle in Massachusetts beginning in 1941. Savage made No. 4 Enfields were marked "US Property" on the left side of the receiver, and they were also marked with an square S for Savage. Savage's rifle contract was cancelled in June 1944, with an estimated 1,236,706 rifles being produced.
A sniper variation of the Lee Enfield No 4 Rifle was used in World War Two, that used the No. 32 3.5x power scope and had a wooden cheekpiece. This model was adopted in 1942 and it was known as the No. 4 Mk 1 T. The earliest sniper rifles were converted from the Trials No. 4 Enfields at the Royal Small Arms Enfield Factory. Later that year Holland and Holland was contracted to convert select No. 4 infantry rifles to No. 4 Mk 1 T sniper rifles. British and Savage made rifles were selected for conversion. Somewhere between 23,177 and 26,442 rifles were converted by Holland and Holland. Long Branch made a small number of sniper rifles late in World War Two, in addition to those that were converted by Holland and Holland.
An improved version of the Lee Enfield No 4 Rifle was introduced in 1949, called the No. 4 Mk 2. The No. 4 Mk 2's trigger was mounted onto the receiver unlike earlier guns in which the trigger was mounted on the trigger guard. This provided for a better trigger pull. No. 4 Mk 2 rifles were produced by ROF Fazakerley for a wide variety of countries and organizations such as South Africa, Ireland, and the Royal Air Force. Many of these guns are found today in excellent or like new condition due to many of them having never seen action. Many No. 4 Mk 1 and No. 4 Mk 1* rifles were upgraded to Mk 2 specifications. These rifles are marked either No. 4 Mk 1/2 or No. 4 Mk 1/3. They will also be marked FTR meaning Factory Through Repair.
The Pakistani Ordnance Factory (POF) made both No. 4 Mk. 1 and Mk. 2 Enfield rifles in limited quantities during the 1950's and early 1960's. In addition to building new rifles POF rebuilt older No. 4 rifles. Many No. 4 Enfield rifles of all types were overhauled and rebuilt in India at the Ishapore factory. These rifles were often marked "RFI" for Royal Factory Ishapore. Many of these Indian overhauled rifles also had a reinforcing screw on the left side of the stock.
A shortened and lightened version of the No. 4 Enfield was adopted in 1944 as the No. 5 Mk 1 Carbine. The No. 5 is better known as the "Jungle Carbine" and was made by ROF Fazakerley and by BSA. The No.5 used a unique blade bayonet and today these bayonets bring a high premium over No. 4 bayonets. A total of 251,000 No. 5 Carbines were produced from 1944 until 1947. The No. 5 was used late in World War Two and saw widespread use during the Malayan Emergency.
No. 5 Carbines featured a flash suppressor, rubber buttpad, and rear sight graduated out to 800 yards. The Carbines also had several lightening cuts made to reduce weight, including in the bolt, barrel, and receiver.
The No. 5 was said to have been unable to be sighted in and this became known as "Wandering Zero". Because of this the No. 5 was declared obsolete in 1947, but the gun still continued to service in Malaya.
In the United States surplus Enfields were modified by importers to resemble No. 5 Carbines, but real No. 5s are easy to tell. Real No. 5s will be marked No. 5, their rear sights will be marked out to 800 yards, and they will have a hollowed out bolt handle and lightening cuts made on the rear part of the barrel. Finally real No. 5s were only made by ROF Fazakerley, (Code ROF marked on left side of receiver) and BSA. (Code M47C on left side of wrist)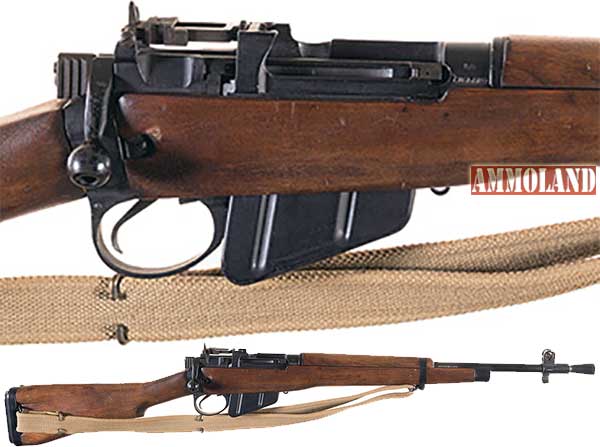 Today surviving Lee Enfield No 4 Rifle of all types including No. 4s and No. 5s are gaining value on the collectible market. Many Enfield rifles were sporterized or modified following their release on the commercial market. Today Enfields are found only on the secondary market. There are many collectors that focus just on Enfield rifles and their many variations. Sniper rifles and trial rifles like the MKV and MKVI bring a substantial premium over comparable infantry rifles.
Enfields are also popular in places like England, Canada, and Australia where semi automatic rifles are either banned or heavily regulated.
** Images: Rock Island Auction Company ( www.rockislandauction.com )
Resources:
Lee Enfield No 4 Rifle For Sale
Lee Enfield No 4 Rifle Books
Lee Enfield No 4 Rifle Videos
Lee Enfield No 4 Rifle Parts
---
Check Out this Video of Run & Gun Shooting of the Lee Enfield No 4 Rifle:
---
About Marc Cammack
Marc Cammack has been collecting firearms since he was 14 years old.
His interests are primarily military surplus firearms of the late 19th into the 1950's. He has studied these in depth, and currently volunteers at two local museums providing them with accurate information about their firearms.
He is a graduate of the University of Maine with a bachelor's degree in history. He has studied modern European and American history since the age of 9, and has been shooting since the age of 11. He currently resides just outside of Bangor, Maine.