By Marc Cammack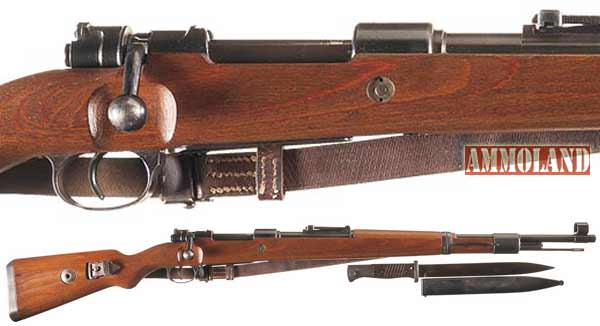 Bangor, Maine -(Ammoland.com)- Today one of the most popular and sought after military rifles is the German 8mm Mauser K98 bolt action rifle.
The K98 was the standard issue rifle for one of the most notorious and violent regimes in history, Nazi Germany. The rifle went on to see use in other conflicts after World War Two and was even used ironically by the Israelis. The K98 is also regarded as one of the finest military bolt action rifles in history.
During World War One the German Army's standard rifle was the Gewehr 98 Mauser in 8mm Mauser. The Gew 98 action was the final product of several years of development and earlier Mauser designs such as the Model 1889, 1893, and 1896 rifles. The Gew 98 proved to be a reliable weapon but it was long and heavy. Carbine versions of the Gew 98 had been issued in smaller numbers to specialized German troops during World War One but they never became standardized.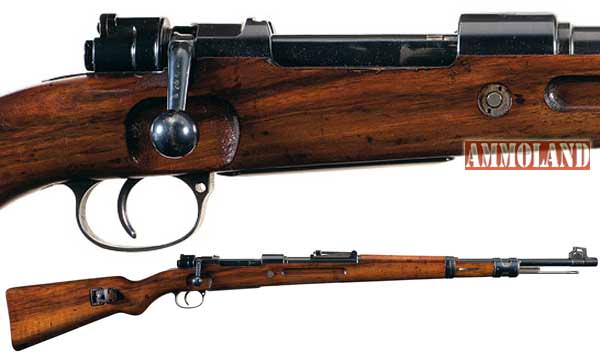 Because Germany lost World War One, their military and armament were severely limited under the Treaty of Versailles. Following the war both FN in Belgium and the Czechs began producing a shortened version of the 98 Mauser called the Model 1924. The Model 1924 was sold all over the world and was a success. In Germany the Mauser Oberndorf factory made a shortened Mauser called the Standard Modell with improved sights. To get around the Treaty of Versailles the Standard Modell was intended for export rather than domestic sale, however some of these guns were bought within Germany.
After Adolf Hitler took power of Germany in 1933, he began a rearmament program for the German Army. The German Post Office (Deutsche Reichspost) used an improved version of the Standard Modell for security. This rifle had a turned down bolt handle, and had the same barrel length as the Standard Modell. Further improvements and changes were made to the Reichspost Rifle which resulted in the K98 rifle, which was adopted as a the standard rifle of the German Army in 1935. The "K" in K98 stands for Karabiner which is the German word for Carbine or shortened rifle.
K98s were produced by a wide variety of companies including Erma, Mauser Oberndorf, J.P. Sauer, and Steyr. Earlier K98s often had a number code for their manufacturer on the receiver such as S/27 for Erma, while later guns had letter codes such as BNZ for Steyr produced guns. Over 14 million were produced by the end of World War Two, making it one of the most widely produced infantry rifles of all time. Prior to World War Two K98s were exported to a variety of countries including Portugal and China.
When Germany invaded Poland in 1939, the K98 would have the chance to go to war. The K98 saw widespread use by the German Wehrmacht, (Army) Kriegsmarine (Navy) Luftwaffe, (Air Force) and Waffen SS. The gun was used in every major battle and theater where Germany fought including North Africa, Eastern Europe, France, and the Balkans. Although there were semi automatic and select fire weapons available later in the war, such as the G43 and MP43, there were never enough to supplant the K98 as the standard service rifle.
Some K98 rifles were fitted with 1.5x power ZF41 scopes. These were not intended to be sniper rifles but rather to be given to infantrymen who demonstrated superior marksmanship abilities. This concept is similar to the role of designated marksmen in the US Military today who have specialized rifles like M14s, or the MK12 Special Purpose rifle. Other K98 rifles were set up as sniper rifles. K98 sniper rifles had a variety of mounts and optics. These optics were larger than the ZF41 and varied from 4x power to 8x power scopes.
As the tide of war changed against Nazi Germany, changes were made to simplify K98 rifle production. More stamped parts such as the front bands, and magazine floorplates were used instead of earlier milled parts. In late 1944 a further simplified K98 was introduced called the Kriegsmodell. Kriegsmodell rifles lacked bayonet lugs, and disassembly discs in their stocks. These rifles also featured a rougher finish than earlier rifles. Some late rifles had some features of Kreigsmodell rifles but not all and they are known today as "Semi-Kreigsmodell" K98s.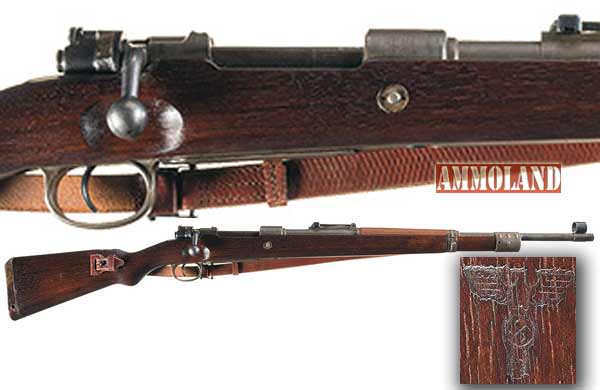 In 1945 a crude and simple version of the K98 was produced for the German People's Army (Volksstrum) called the Volksgewehr. The Volksgewehr was made by Steyr, (Code BNZ) and the rifle had a very simple rear sight. This rifle looks similar to many "Sporterized" rifles seen today due to its lack of a hand guard and forestock. The Volkstrum consisted of both old and young Germans, and they were meant to be a last defense against the invading Allied Armies.
After World War Two the K98 was still used by other nations, despite more advanced arms being available. Israel used many K98 Mausers in 7.62mm NATO in several conflicts such as the Six Day War. Yugoslavia had captured many of the weapons and refurbished them, and so did the Soviet Union. The Soviets provided K98 Mausers to other Communist nations in their fight against the Western Powers.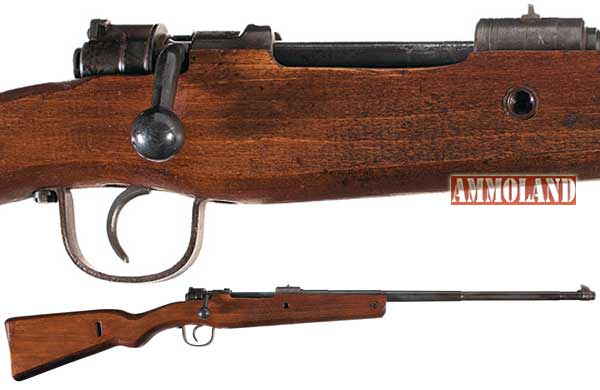 Today prices for K98 Mausers in the American market are on the rise. Non import marked and all original matching examples fetch very high prices. Rarer manufacturers and variations of the K98 command higher prices. Sniper rifles are a popular and valuable version of the K98, and as a result are often faked. More common K98s sometimes have faked matching parts in an attempt to raise the rifles price. Also faked are rare markings, and it always a good idea to do a great deal of research before spending a lot of money on a collectible rifle.
For a shooter or reenactor looking for a more affordable rifle, there are other options available.
Yugoslavian and Russian refurbished examples bring much less than non import marked examples. Yugoslavian K98s had their Nazi markings removed and new markings such as a unique crest applied. Finally they had new sets of serial numbers applied to their parts. The Russians mixed parts to rebuild their captured K98 rifles, and refinished them. They sometimes peened the Swastika markings on the rifles, and put "X" marks on the receivers of the rifles. The Russians often numbered the K98's bolts with electro pencil. Finally they often applied a Shellac finish to the stocks like that seen on rebuilt Russian Mosin Nagant rifles.
---
---
Mauser K98 Rifle Resources:
Mausers for Sale on GunBroker.com
Books on Mausers and Mauser Collecting
Mauser Rifle Replacement Parts
Mauser Collectors Website
Mauser History on Wikipedia
** Images: Rock Island Auction Company ( www.rockislandauction.com )
About Marc Cammack
Marc Cammack has been collecting firearms since he was 14 years old.
His interests are primarily military surplus firearms of the late 19th into the 1950's. He has studied these in depth, and currently volunteers at two local museums providing them with accurate information about their firearms.
He is a graduate of the University of Maine with a bachelor's degree in history. He has studied modern European and American history since the age of 9, and has been shooting since the age of 11. He currently resides just outside of Bangor, Maine.