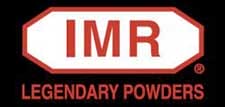 Shawnee, KS -(AmmoLand.com)- IMR Legendary Powders is pleased to announce IMR 4955, the latest introduction to the Enduron series of smokeless powders.
IMR 4955 lands between IMR 4451 and IMR 7977 on the burn rate chart and is an ideal choice for many popular calibers such as 270 Winchester, 25-06 Remington and the 300 Winchester Magnum. Enduron Technology allows accuracy to be maintained over longer shooting sessions, thanks to a special additive which helps remove copper fouling as the rifle is fired.
This environmentally friendly formulation delivers ideal loading densities in medium and big game hunting calibers.
Ballistic variations based on climate conditions are a thing of the past with IMR 4955, thanks to its temperature insensitivity. From extreme heat to extreme cold, shooters will see uniform velocities.  IMR 4955 has a small grain size, making it extremely accurate and easy to flow through a powder measure.
With the addition of IMR 4955 to the series of Enduron Technology powders, reloaders can find a technically advanced powder for reloading anything from 223 Remington all the way up to the 500 Nitro Express.
Complete reloading data will be available in the 2016 Hodgdon Annual Manual in January or in the Reloading Data Center on https://imrpowder.com any time.
IMR 4955 will be available in early 2016 in one-pound and eight-pound containers.
About IMR Legendary Powders:
Hodgdon Powder Company purchased IMR Powder Company in October 2003. Hodgdon Powder Company offices are located at 6231 Robinson in Overland Park, Kansas. IMR powders continue to be manufactured to the same exacting performance criteria and quality assurance standards that shooters have come to expect. IMR truly represents Legendary powders – the IMR powders we reload today had their DNA established over 200 years ago. From World Wars I and II, to 1,000 yard benchrest competition, to your deer stand, IMR Legendary Powders are the standard all others attempt to follow.
For more information, visit: www.IMRPowder.com.