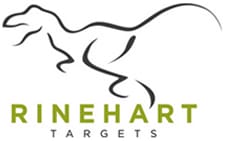 Janesville, WI -(AmmoLand.com)- Rinehart Targets, designer and manufacturer of sculpted archery targets, has released a new lineup of bag targets under the Gator Bag umbrella.
Available in 22- and 26-inch configurations, the Gator Bag line is designed to augment the Rhino Bag lineup with a more economical offering. The Gator Bags feature an integrated, deluxe molded handle for assisting with transport, and each sports a variety of aiming dots for enhanced shooter experience.
Like all Rinehart bag targets, the graphics on the skins are designed to spread the shot pattern across the target, improving overall target life and providing shooters a variety of variations on one target.
MSRPs for the Gator Bags are $49/22-inch bag and $79/26-inch bag.
For product information, media inquiries or more about Rinehart's full line of targets, contact Jack Gavin at [email protected] or visit www.rinehert3d.com.
About Rinehart Targets:
Since 1999, Rinehart Targets has been designing and manufacturing top-tier 3-D archery targets. A combination of high quality, long-standing durability and unique offerings makes the Rinehart brand one of a kind. Rinehart's diverse target line has been extremely well received by all levels of archery shooters and has set the benchmark for target innovation, both in product design and material life.
For more information, visit: www.rinehert3d.com.