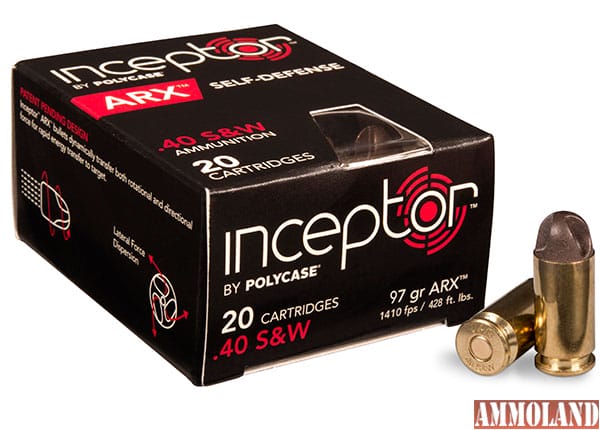 Savannah, GA -(AmmoLand.com)- PolyCase Ammunition, a company launched just over three years ago, has been named 'Ammo of the Year' by Guns & Ammo Magazine for its innovative PolyCase ARX ammunition.
"PolyCase is humbled and honored to receive the 'Ammo of the Year' award from Guns & Ammo Magazine," says retired Lieutenant Colonel Paul Lemke, PolyCase CEO. "None of what we have achieved in the past year would have been possible without the incredible support we've received from our colleagues and partners in the industry, and from the passionate and patriotic shooting public."
The PolyCase ARX combines unique features that deviate from familiar ammunition design. The advanced design uses injection molding technology to make components from metal and polymer alloys resulting in reliable, lightweight, accurate, low-friction ammunition components.
According to Guns &Ammo: "CEO Paul Lemke's pursuit to champion … an injection molded bullet with fluid accelerating flutes may one day place PolyCase ammunition on the short-short list of firearm history's most significant advancements." 
The game-changing ARX projectile has certainly turned heads in 2015. The non-expanding ARX is a defensive bullet that transfers energy to fluid targets through a fluid-dynamic effect, as opposed to traditional expanding bullets which transfer energy through increased surface area and friction. This fluid-dynamic effect created by the grooves on the nose of the ARX bullet ensures effective penetration depth and maximum energy transfer to intended targets, while minimizing the risk of over-penetration.
PolyCase is revolutionizing handgun ammunition with low recoil, accuracy and performance, which is why the PolyCase ARX has been recognized by the Editorial Staff of Guns & Ammo for this award.
The ARX bullet is available as either Inceptor or Ruger branded ammunition at fine retailers nationwide.
About PolyCase Ammunition:
PolyCase Ammunition develops, manufactures, markets, and sells world-class, patent pending, small arms ammunition and projectiles used by discerning professionals and sports shooters. Made in the USA, using over ninety years of advanced design, materials and manufacturing experience; the twenty-first century products are designed to provide the lethality and consistency expected by PolyCase customers. The PolyCase Ammunition team consists of experts in chemical, mechanical, advanced materials and industrial engineering, ammunition research, development, testing, and evaluation, precision manufacturing, marketing, and U.S. domestic and international sales. They have proudly partnered with other industry leaders to provide deserving customers with ammunition manufactured using only the most efficient components. PolyCase Ammunition was founded in 2012 and is headquartered in Savannah, Georgia.
For more information, visit: www.PolyCaseAmmo.com.