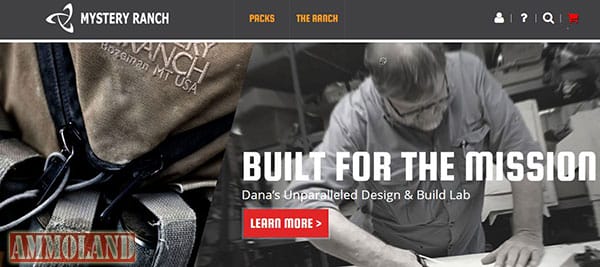 Bozeman, MT -(AmmoLand.com)- MYSTERY RANCH, an industry-leading pack company with multiple product lines focused on function, comfort, quality and durability, has extended their infamous line of packs for 2016 to include five hunter-specific offerings in the new Wilderness Series.
Named after five Montana wilderness areas designated by the Wilderness Act of 1964, the entire Wilderness Series was created for hunters after years of hunters using MYSTERY RANCH Mountain Series packs. Committed to the same "Built For The Mission" quality MYSTERY RANCH has created an empire upon, the Wilderness Series features the finest load-bearing packs in the world—and each stitch is set with the hunter in mind:
The Wilderness Series Lineup:
Marshall: The paragon, backcountry backpack
Metcalf: The king of hunting backpacks
Pintler: Streamlined, bowhunting backpack for overnight hunts
Cabinet: The day hunting pack that transforms
Scapegoat: An agile hunting daypack for carrying core gear
The folks at MYSTERY RANCH know that it often takes going the extra mile to put meat in the freezer or find that experience that most hunters only dream about. Committing to a hunt in big country, without the aid of wheels or hooves, requires a hunter to find something special within, and it also requires the right tools to not only get the job done, but to return safely.
Each of the Wilderness Series packs have been designed, stitch by stitch, with features to make the journey as important and rewarding as the destination. From the all-new Guide Light frame with Overload Shelf for hauling very heavily loads with relative ease, to specific compartments, materials and accessories for unique tasks—nothing about any of the Wilderness Series packs hasn't been thought through and tweaked to perfection.
As with all MYSTERY RANCH packs, the key to the function of all Wilderness Series packs comes from the meticulous fit: When a pack is fits and is adjusted to you specifically, you can carry loads much heavier and farther than you ever thought imaginable. And that perfection lives at the center of every decision made at MYSTERY RANCH: Built For The Mission.
For more information about the full line of packs from MYSTERY RANCH, contact Jack Gavin at [email protected] or visit http://mysteryranch.com.
About Mystery Ranch:
Mystery Ranch is committed to building the finest load carriage equipment in the world.  A product-driven company from the beginning, Mystery Ranch designs packs for the job that needs to get done, for the people committed to doing it, with the best materials available and the most durable construction methods that exist.
For more information, visit: http://mysteryranch.com.
#BuiltForTheMission