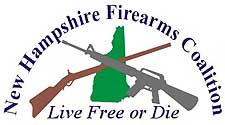 Milford, NH –-(Ammoland.com)- Our trusted friend and adviser, Executive Councilor David Wheeler (R-Milford) has told me that he has recently heard from the New Hampshire State Police that our state has entered into concealed carry reciprocity agreements with Maine and West Virginia.
The New Hampshire Resident Pistol / Revolver license is now accepted for concealed carry in 25 other states.
You can click here for the complete list.
In addition to the above reciprocity states, you may lawfully carry concealed in all "Constitutional Carry" states such as Vermont, Kansas, Alaska, Arizona and a few others.
Thanks for your support.
In liberty,
Jonathan R Evans, Signature
Alan M. Rice
Training Director – NHFC
About New Hampshire Firearms Coalition:
The New Hampshire Firearms Coalition is New Hampshire's only No Compromise Gun Rights Organization. While many so-called "gun rights groups" work to curry favor with politicians and the media, NHFC is working aggressively to hold politicians accountable and to put a stop to gun control. Visit: www.nhfc-ontarget.org