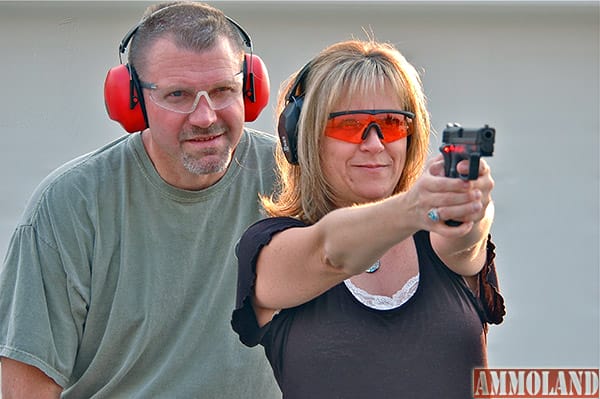 Wilsonville, OR -(AmmoLand.com)- One important step in being well prepared for life-threatening situations when carrying a concealed firearm is to practice.
Practice is also required to be proficient with any firearm designated as a home defense firearm. Accurately shooting a firearm is an acquired skill—and the world's best handgunners always practice to stay accurate. Under stress, however, making a well-placed shot can be difficult. Laser sights make that process much easier.
The great news is that having laser sights installed on any firearm gives instant feedback to the shooter during practice. The moving laser dot on the target can reveal anticipated recoil and pushing a handgun, movement caused by improper trigger pull, and other movements related to a firearm's discharge. These revealed movements can be understood and corrected thanks to what the laser dot reveals to the handler. This correction—if needed—is a key to being accurate with a firearm. All practice should also include other activities.
In addition to using the installed laser sights—along with the firearm's standard fixed sights—practice should include loading magazines, safely unholstering a firearm, and operating the various safeties and levers so that firearm can be safely discharged. Practice sessions should also include shooting with the weak or off hand. To complete the process to perfection, practice could include doing those lifesaving activities by feel—in the dark or with eyes closed in a controlled environment. The ultimate advantage is having a laser sight, such as Crimson Trace's Laserguard with Instinctive Activation, which permits the gun owner to look at the distant threat and not focus on the in-hand gun sights and the threat.
Need a place to practice?
The National Shooting Sports Foundation's www.wheretoshoot.org website can lead to a range near your location—or near your destination—along with providing tips to improve accuracy. The site offers more than 100 free video tips to aid with all types of practice. The information can also be accessed via a phone APP so it can be used on the road. Under the Resources for Shooters are also FREE targets to print, firearms tips to follow and much more. There's also information on many types of engaging shooting sports and the basic firearms safety rules.
Want more practice ideas? The many Crimson Trace videos found on www.crimsontrace.com will provide pointed details on how to practice and use firearms equipped with laser sights. The company also offers a free DVD, The Laser's Edge that provides details on using firearms equipped with laser sights.
Crimson Trace is widely recognized as the world's leader in establishing laser sights as standard equipment on concealed-carry and personal-defense firearms. The company—based in Wilsonville, Oregon—has been manufacturing laser sights and lights for firearms for more than 20 years. Full product details, or a dealer locator link, are at www.crimsontrace.com.
Anyone with questions can contact the company Customer Service Center 24/7 at 800-442-2406.
About Crimson Trace:
Crimson Trace—based in Wilsonville, Oregon—is the acknowledged industry leader for laser sighting systems and tactical lights for firearms. The company produces award-winning innovations, including: Lasergrips and Laserguard with red and green lasers, as well as Lightguard  –all with Instinctive Activation.  Additionally, the company's product line includes the best-in-class Defender Series and Rail Master platforms – all of which are proudly designed, engineered and manufactured in the USA. Crimson Trace sets the industry standard in comprehensive customer service that is available 24/7 at 800-442-2406.
More details are available at: www.CrimsonTrace.com or by calling 800-442-2406.