By Mike Searson
Cobalt Kinetics EVOLVE Rifle Review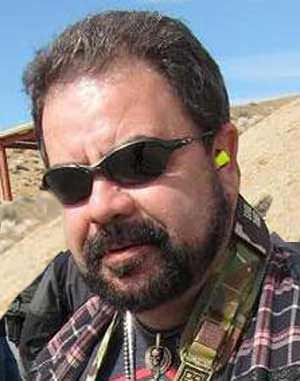 USA –  -(Ammoland.com)- If the Cobalt Kinetics BAMF was like a breath of fresh air into the stale AR platform; then the Cobalt Kinetics EVOLVE rifle is a full-on heart transplant.
Like the BAMF, the Cobalt Kinetics EVOLVE is precision machined from 7075 aircraft grade billet aluminum to extremely close tolerances. They kept the 45 degree safety selector, ambidextrous controls and a mid-length gas system, but eliminated the mag release, the Double D bolt drop and the traditional bolt catch.
Whoa Montana, what the hell did you just say?
Read on, dear reader.
Cobalt Kinetics EVOLVE Rifle The Good
Cobalt still has it in the looks department and our test guns had what appeared to be an integral pistol grip made of the same aluminum as the rest of the lower receiver. It is actually a separate piece and can be replaced by any aftermarket pistol grip if you so desire.
When we were pitched on the idea of checking them out in person, one of the comments we heard from Cobalt was: "Oh by the way, the magazine automatically drops when you run dry".
We honestly did not know what to make of that until we saw it with our own eyes. Sure enough, when your mag runs out, it drops from the rifle of its own accord while the bolt locks to the rear. Slam in a fresh mag and it closes of its own accord making you ready to rock and roll.
Turning their attention away from the Upper receiver on the BAMF, the major innovations on the EVOLVE are more centered on the lower receiver.
Our test model did use a barrel that incorporated carbpon fiber in its construction and their new proprietary buffer system allows the shooter to adapt the rifle to their particular loads.
Like the BAMF, the EVOLVE will shoot sub-MOA all day long.
The improved buffer system is a godsend and, yes, you can shoot it one-handed on full auto and keep all rounds on target. The other piece to this puzzle is an in-house compensator that works extremely well. We tend to be fans of the type that actually reduce flash like the SEI Vortex or serve as a mount for a silencer, but the Cobalt Comp works extremely well and is probably what you want for a competitive rifle.
All parts are made in-house with the exception of the trigger group. This rifle is still in the Beta stage, but hopefully we will see it available a little after SHOT Show.
Cobalt Kinetics EVOLVE Rifle The Bad
Well, we will get this out of the way now: The MSRP is $2995. We kind of suck at math but that sounds like the price of two Colt 6920s.
Performance wise, we did witness failures with a particular and popular magazine brand, however, Cobalt's on-site gunsmith got the rifle up and running within 20 to 30 minutes. For $3000, Dave doesn't come out to your house to service your rifle, but what he did could be done by almost any shooter who can disassemble his rifle for cleaning.
The magazines are not held in place by a traditional magazine catch and the dimensions of different magazines can be off by hundredths of an inch to ten thousandths of an inch. At this stage you may have to fine tune the rifle with spacers in order to get a particular brand to run properly. If you have brand loyalty and only run one type, you are good to go. If you run everything ever made like the author does, well you may have to select a batch just for use in the EVOLVE.
Cobalt Kinetics EVOLVE Rifle The Reality
Like we said in the BAMF review, we did not have the luxury of playing with the EVOLVE for a week or two. From the few hours we fired it and witnessing other shooters work it, we were very impressed and see it potentially ruling the world of competition shooting. It truly is an AR race gun.
We firmly believe that the magazine drop and bolt closing features could very well be critical in the next stage of AR development.
This is not a rifle for everyone. The price point alone is staggering to some. That is not to say you don't get what you pay for. Some people are content with shooting a $200 pump shotgun; others will not pay less than $5000 for an over/under to accomplish the same goal.
The team at Cobalt has a more tactical version in the works and we don't mean they're going to just paint a rifle black. The improvements in the EVOLVE will be put into a rifle more suited for law enforcement or even military use with input from real-world end users.
Check Out Cobalt Kinetics Online:
About Mike Searson
Mike Searson's career as a shooter began as a Marine Rifleman at age 17. He has worked in the firearms industry his entire adult life as a Gunsmith, Ballistician, Consultant, Salesman, Author and was first certified to teach firearms safety in 1989.
Mike has written over 2000 articles for a number of magazines, websites and newsletters including Blade, RECOIL, OFF-GRID, Tactical Officer, SWAT, Tactical World, Gun Digest, Examiner.com and the US Concealed Carry Association as well as AmmoLand Shooting Sports News.
Home page: www.mikesearson.com
FB: www.facebook.com/mike.searson
TWITTER: www.twitter.com/mikesearson