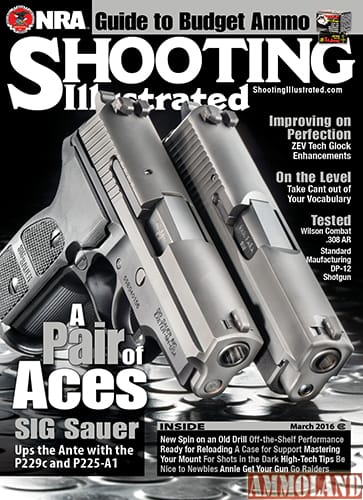 Fairfax, VA -(AmmoLand.com)- The March issue of Shooting Illustrated features two new concealed-carry options from SIG Sauer–and a guide to fodder with which to feed them.
One is the recently updated P225-A1, the other a variant of the P229 that features a shorter barrel. Both new pistols are great self-defense options; the single-stack P225-A1 is slim and light, while the P229c offers a full-size grip with a sub-compact barrel. Find out how SIG's newest offerings for concealed-carry hold up to our testing.
If your preference runs to a more Austrian striker-fired handgun for your defensive sidearm, there's a company called Zev Tech you really need to know about. While the Glock line preaches "perfection," there are upgrades that can make it even more perfect. Zev Tech offers a number of custom touches and upgrades suitable for your defensive needs while keeping the cost affordable.
No matter what style of pistol you prefer, one thing is constant: that pistol needs to be fed. Finding affordable ammunition for your defensive handgun—or your favorite carbine—can mean the difference between practicing a little, or practicing a lot. Our ammo editor takes a detailed look at six different manufacturers that offer inexpensive fodder for your pistol or rifle.
You won't need inexpensive ammunition for zeroing your rifle if you follow our steps for proper riflescope installation. Installing a magnified optic on a precision rifle intended for long-range practice can be a daunting task, but not an insurmountable one. Read up on the different forms of cant, why each is important and how to properly install a scope to make the most of your shooting experience.
Look for these articles and much more in the March issue of Shooting Illustrated, The Definitive Source for the Modern Shooter, at a newsstand near you. You can also subscribe by calling (877) 223-3840.
For more information: visit ShootingIllustrated.com, call Editor-in-Chief Ed Friedman at (703) 267-1331 or e-mail [email protected]
About Shooting Illustrated:
The Internet's Definitive Source for the Modern Shooter. Gun Guides, Videos and Articles on Firearms.
For more information, please visit www.ShootingIllustrated.com.