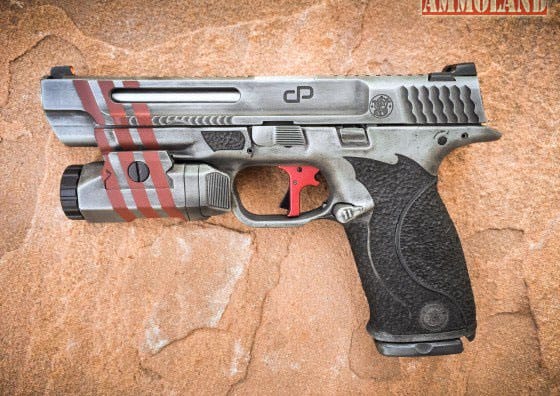 Los Osos, CA -(AmmoLand.com)- The team behind the most talked about pistol of 2015 are again joining forces to collaborate on a second Dream Gun.
For the upcoming NRA Show in Louisville, Brownells has asked Apex Tactical Specialties, Blowndeadline Custom, DP Custom Works and SSVi to build an entirely new Dream Gun to go on display in the Brownells booth (#3401) during the show.
"Following on the popularity – and notoriety – of our first collaboration, Brownells asked us to put together a second Dream Gun that they can showcase at this year's NRA Show," explained Scott Folk, vice president of Apex. "Of course, our answer was a resounding 'Yes' and we're very pleased to announce that Apex, Blowndeadline Custom, DP Custom Works and SSVi will soon be hard at work on our next entry in the Brownells Dream Gun Project."
The Brownells Dream Guns Project was started in 2011 to help feature the wide range of parts and accessories available from Brownells that customers can use to upgrade and customize their own pistols, rifles and shotguns. To date over 100 Dream Guns have been built and are available for review at brownells.com.
While Apex has not yet disclosed any details about the second Dream Gun, the company has confirmed it will again be a custom build utilizing the Smith & Wesson M&P platform.
For more information on parts and services from Apex Tactical Specialties, visit www.ApexTactical.com, like Apex Tactical on Facebook or follow @ApexTactical on Instagram and Twitter. Instructional videos on the installation of Apex parts are available on Apex's YouTube channel.
About Apex Tactical Specialties, Inc.:
Apex Tactical Specialties, Inc. was created to serve Law Enforcement personnel, competition shooters, and individuals who recognize the need for defensive tools to be more than "just adequate" for the job. We are a quality-driven and progressive organization – our product line, services, and expertise are continually evolving. Our mission is simple: superior parts, exceptional performance and craftsmanship, and above all, unparalleled customer service.
For more information on Apex Tactical Specialties, Inc. and its full line of products, please visit www.ApexTactical.com.