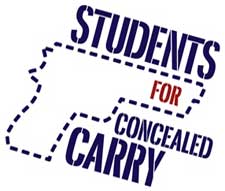 Austin, TX -(AmmoLand.com)- Over the past several months, Students for Concealed Carry (SCC) has repeatedly criticized policies proposed by the University of North Texas and Texas Tech University that would prohibit the licensed concealed carry of handguns at performance venues and large-scale events on university property.
Now that both universities have adopted these policies, SCC is compelled to repeat these criticisms. (NOTE: UNT defines a "large-scale event" as any event at which "attendance is reasonably anticipated to exceed 200 individuals"; Texas Tech's policy specifies "performance venues" and "ticketed events"; both policies also single out events where alcohol is served.)
In the past, SCC has illustrated how unnecessary such policies are by pointing to the example of the Austin City Limits Music Festival, which sees annual attendance of almost half a million people, which allows alcohol sales, and which—due to being held on municipal property and not meeting any of the criteria of a prohibited place listed under Section 46.03 or 46.035 of the Texas Penal Code—allows licensed concealed carry. However, we've recently become aware of another, equally relevant example of a large-scale event that allows licensed concealed carry—the Texas Republican Convention.
According to The Dallas Morning News, "A spokesman for the Republican Party of Texas confirmed Monday that both open and concealed carry will be allowed at the state's convention in May. The state party has allowed guns at its convention in the past."
Each year, the ACL music festival hosts enough twenty-something concertgoers to fill both the UNT and Texas Tech campuses several times over, and an attendee of the 2016 Texas Republican Convention will no doubt encounter more heated discussions than he or she would experience in a year on the UNT or Texas Tech campus. Given that Texas universities are supposed to develop campus carry policies based on the "nature of the student population" and the "uniqueness of the campus environment," what is the rationale for treating a large-scale event at a public university differently than a large-scale concert in a public park or a large-scale political convention at a public conference center?
Why should a concealed handgun license (CHL)/license to carry (LTC) holder who is allowed to carry a concealed handgun in a movie theater in Denton or Lubbock be prohibited from carrying a concealed handgun in a university theater at UNT or Texas Tech? Why should a licensed, vetted adult who is allowed to carry a concealed handgun at a restaurant or movie theater that serves alcohol be prohibited from carrying a concealed handgun at a university function where alcohol is served?
Although most campus carry task forces purport to seek to find on-campus corollaries to off-campus concealed carry laws, the reality is that some universities are more interested in creating entirely original policies, with no regard for where licensed concealed carry is allowed throughout the rest of the state.
About Students for Concealed Carry:
Students for Concealed Carry (SCC) is a national, non-partisan, grassroots organization comprising college students, faculty, staff, and concerned citizens who believe that holders of state-issued concealed handgun licenses should be allowed the same measure of personal protection on college campuses that current laws afford them virtually everywhere else. SCC is not affiliated with the NRA or any other organization. For more information on the debate over campus carry in Texas, visit WhyCampusCarry.com.
For more information on SCC, visit ConcealedCampus.org or Facebook.com/ConcealedCampus.