New Oversized, Bow-Hunter-Friendly Ameristep Warlock Blind With NS3 Technology Performs a Total Disappearing Act
Dallas, TX -(AmmoLand.com)- The Ameristep 2016 line-up of ground blinds is full of incredible models to cover any hunting or photography situation – including 7 all-new designs.
Suffice it to say that if you can't find an Ameristep blind to fulfill your needs, you should probably focus more on, say…knitting.
Ameristep's ALL-NEW Warlock Blind delivers anything a hunter could ask for, starting with its striking, high-tech Kryptek Highlander camo finish. Ample dimensions come next. With a footprint of 65" X 65" and a height of 72", the Warlock Blind won't rub you wrong. Big dudes, bow hunters, hunting couples, families and camera crews will all lend their enthusiastic support to the Ameristep Warlock.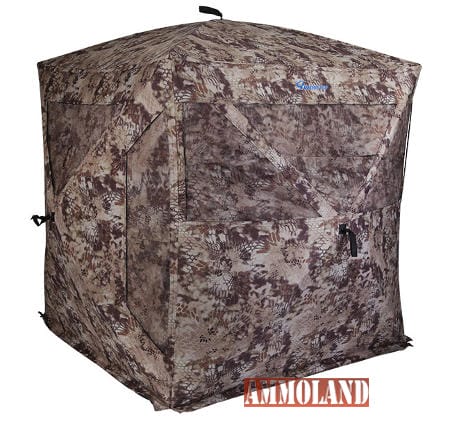 But there is much more to the Warlock than meets the eye.
When it comes to the Warlock, much of its beauty is, in fact, skin-deep. With a shell constructed of Ameristep's remarkable, new, cutting-edge NS3 Carbon-Enhanced Fabric, the Warlock conjures up a mystical trinity of true, high-performance benefits.
What does NS3 mean? Glad you asked. Answer: No scent, no shine, no sound. NS3 Technology combines a super soft, quiet and dull micro-fiber exterior with a silent, carbon-enhanced, black, laminated ShadowGuard interior. The result is pure stealth – a blind that helps contain scent, attenuates sound and doesn't shine.
Brush loops are sewn in around the perimeter of the Ameristep Warlock Blind's roofline for supplemental camouflage using local vegetation, a feature that combines with the blind's versatile Kryptek Highlander camo and NS3 Technology to complete a total disappearing act. A skirt at ground level eliminates unwanted light and adds additional weather protection and scent containment.
It isn't magic. The Warlock's very real shooting versatility comes courtesy of a unique dual-window system. The blind's two sidewalls have large center windows with built-in gun ports combined with two vertical shoot-through mesh windows on each edge that allow for sitting or standing bow shots. The Ameristep Warlock Blind's front wall provides three large shoot-through mesh windows that span the blind's full width. All window openings feature a split curtain design that allows hunters to open the top, bottom, or entire area of each window using a silent toggle system for fully customizable viewing and concealment.
The Warlock's mystifying features continue with Ameristep's indestructible, two-piece, stamped steel Spider Hub System, combining worry-free structural integrity with quick and hassle-free set-up. Included stakes and tie down straps keep the Warlock in perfect form until it's time to fold it up and pack it into the included backpack carrying case.
Ameristep Warlock Blind Features:
NS3 carbon-enhanced fabric with ShadowGuard coating reduces scent, noise and sheen
Unique vertical window openings ideal for bow hunting
Shoot through mesh windows with gun ports
Includes backpack, stakes, and tie-down rope
Kryptek Highlander camouflage pattern
Ameristep Warlock Blind Specifications:
Model#: 1KH4H098FR (Canadian Compliant)
UPC: 76952491489-6
Footprint: 65" X 65"
Height: 72"
Shooting width: 82"
Weight: 19 lbs.
MSRP: $229.99
The new Warlock's grand dimensions and versatile dual window system make it the perfect hunting blind for bow hunters and larger hunting groups. But Ameristep didn't stop there. The powers of a buck's senses can seem supernatural. Start fighting back with some magic of your own.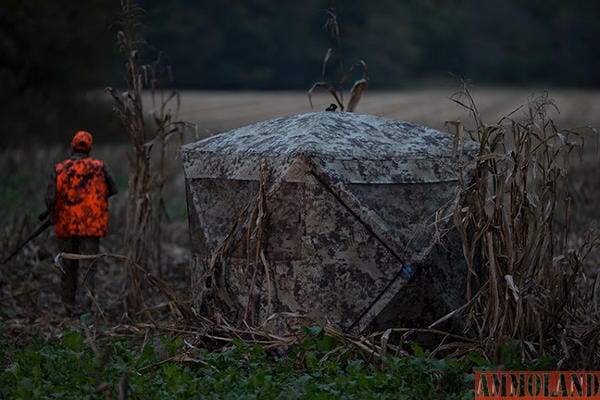 This mighty Warlock has the power of NS3 Technology – the makings of a powerful spell to help beat his eyes, ears and nose.
About AMERISTEP:
AMERISTEP is the premier manufacturer of tree stands, ground blinds, safety harnesses and other useful hunting accessories. As a frontrunner in several competitive product spaces, AMERISTEP has led the charge toward the development of many of the hunting industry's most functional and well-known products. With a strong commitment to the future and deep roots in the past, the brand continues to polish their pedigree as a time-honored trendsetter. For more information, contact: Evolved Ingenuity, 602 Fountain Parkway, Grand Prairie, TX 75050.
For more information, visit: www.Ameristep.com.