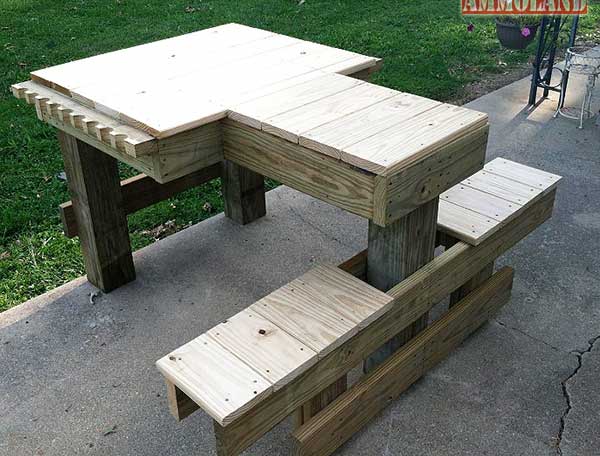 USA –  -(Ammoland.com)- Spring is a great time to tune up your existing Shooting bench or build some new ones from scratch. Need a project to support or donate to you local range? Sierra Bullets sent out a link to a great shooting bench plans.
"Looking to build a shooting bench to use this summer? Thomas Draper added some very handy notes to these plans he found online." says Sierra Bullets
Firearms instructor Thomas Draper has expanded and improved on a cool shooting bench design and is now providing downloadable plans with all the details, including measurements, parts list and detailed build instructions.
Download Free Shooting Bench Plans Here by AmmoLand Shooting Sports News
About Thomas Draper:
For concealed carry or basic firearms instruction or classes in Illinois contact Thomas Draper at https://www.thomasdraper.com/.
About Sierra Bullets:
Founded in California, Sierra Bullets has been dedicated to manufacturing the most accurate bullets in the world since 1947. Since relocating to Sedalia, MO in 1990, Sierra has manufactured a very wide range of bullets for both rifles and pistols. Today, Sierra uses the highest level of precision in design, manufacturing, and quality control standards to produce bullets used for precision target shooting, hunting and defense purposes. Sierra Bullet lines include: BlitzKing, Varminter, GameKing, MatchKing, Tipped MatchKing, Pro-Hunter, Sports Master, and Tournament Master. Available calibers range from .204 through to .500.
For more information about Sierra Bullets please visit www.sierrabullets.com.