By Mike Searson
North American Arms Pug-T Mini Revolver, review and test.

United States -(AmmoLand.com)- One of our favorite carry guns is the Pug-T Mini Revolver made by North American Arms. This is one of the smallest handguns on the market in the form of a solid frame 5-shot rimfire revolver chambered in 22 Magnum.
Built entirely from stainless steel, the Pug use a single action "spur" trigger and offers an extremely discrete option for CCW. We do not advocate the Pug as the primary handgun for concealed carry, but more of a backup piece.
The North American Arms Pug-T Mini Revolver Review differs from the main line of NAA revolvers and is squared off at certain points. Perhaps its biggest difference is an extra-large tritium front sight and a rounded one-piece rubber grip.
At this point, this choice may seem rather unusual for a self-defense piece as the caliber is small, but there is much more to these little guns than meets the eye.
North American Arms Pug-T Mini Revolver The Good
These revolvers utilize a proprietary safety notch on the cylinder, allowing the user to safely carry all five rounds loaded in the cylinder without the hammer resting on a rim of a loaded round. As a result, these mini revolvers can be carried safely and discretely in a pocket holster.  Some people have been known to carry one in the watch pocket of their jeans.
Stainless steel construction makes these little revolvers highly resistant to rust.
That big tritium dot makes all the difference in the world when it comes to aiming at and hitting your target. The rubber grip aids in this manner, too. A version without the tritium is available with a large white front sight dot of a similar size.
A number of companies including DeSantis holsters, manufactures special pocket holsters and belt holsters for these revolvers, some allow for carry of spare cylinders preloaded with ammunition.
In a rare move among firearms manufacturers, North American Arms actively takes the input that they receive from their customers. In essence they produce the guns that people want to see happen. When shooters asked for a swing-out version, NAA unveiled the Sidewinder. Later this year, the company plans to release a top break model.
North American Arms Pug-T Mini Revolver The Bad
Perhaps the main fault with the NAA Pug is the fact that you almost have to disassemble the revolver to load and unload it. You literally have to remove the cylinder from the revolver, manually push out the empty cases and insert fresh rounds, one at a time.
This does not make for a speedy tactical reload and some shooters have adapted to this by carrying spare cylinders with them.
North American Arms Pug-T Mini Revolver The Reality
Some detractors point to the 22 Magnum as being inadequate for self-defense. They may have a point, but the strength of the mini revolver lies in their small size. When a larger more appropriate defensive handgun may be left in the safe or the car, these smaller sized guns seem to have a way of being carried more often.
By the same token, many shooters complain about not being able to shoot one of these revolvers accurately. The fact is, with a proper grip on the revolver, admirable groups can be had within 50 feet of the target, especially with the Pug.
These mini revolvers have a place in a personal self-defense battery as a holdout or hideout piece.
Hornady's Critical Defense Load is optimized to work in these short barrels launching a 45-grain FTX bullet at 1000 fps from the muzzle.
North American Arms Pug-T Mini Revolver Product Specs:
Barrel:  1″
Caliber: 22
Weight:  0.4 lbs
Overall Length:  4.5″
Trigger: Single action
Finish: Stainless steel
Grip: Rubber
Sights: Tritium front
MSRP: $347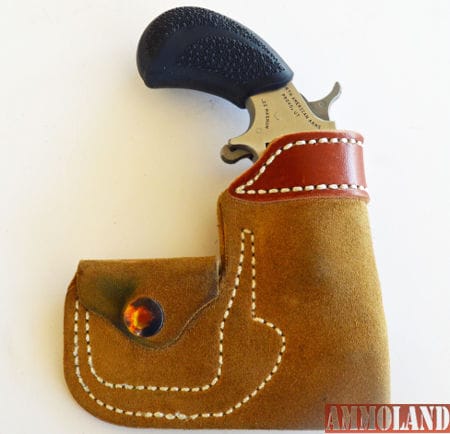 North American Arms Pug-T Mini Revolver Resources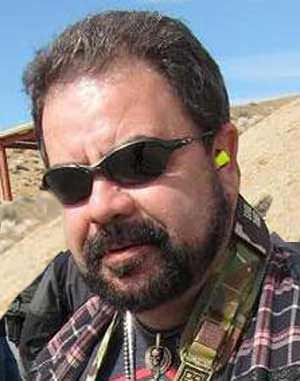 About Mike Searson:
Mike Searson's career as a shooter began as a Marine Rifleman at age 17. He has worked in the firearms industry his entire adult life as a Gunsmith, Ballistician, Consultant, Salesman, Author and was first certified to teach firearms safety in 1989.
Mike has written over 2000 articles for a number of magazines, websites and newsletters including Blade, RECOIL, OFF-GRID, Tactical Officer, SWAT, Tactical World, Gun Digest, Examiner.com and the US Concealed Carry Association as well as AmmoLand Shooting Sports News.