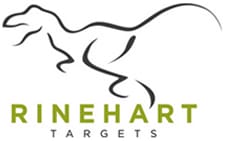 Janesville, WI -(AmmoLand.com)- With years of experience in crafting the most lifelike, durable and realistic archery targets in the industry, Rinehart Targets expanded the scope of its brand with the launch of the Doloma Buck, Doe, Antelope and Coyote decoys for 2016.
To continue with its efforts to expand the entire Rinehart brand and better serve consumers and dealers, Rinehart recently announced its progressive new website.
"Things are changing dramatically at Rinehart," says President James McGovern. "Rinehart has built its foundation upon creating made in the USA 3D targets with high-quality materials sculpted by world-class wildlife artists. That's not going to change … nor is our commitment to serving our dealers and customers. But we're taking proven techniques and applying them to new markets, such as the launch of the Doloma Decoys. And to top off the new products, we've redesigned the Rinehart website to be as jaw-dropping as our product lines."
Rinehart3D.com features a completely new design, highlighted with detailed photography and enhanced descriptions to offer consumers a brick-and-mortar-quality experience from their home computer. The site is also completely responsive for mobile viewers as well, via smartphone or tablet.
Future additions will include detailed videos, offering in-depth analysis of the features and benefits of each of the Rinehart products.
"Growth requires change," says Joe White, Rinehart's VP of Marketing. "We wanted this redesign done right, and we allocated the time and resources into making this website an accurate representation of the Rinehart philosophy—always moving forward. This year has already been huge, and it's still very early. Wait 'til you see what's coming next."
For more product information and media inquiries, please contact Glenn Walker, [email protected].
About Rinehart Targets:
Since 1999 Rinehart Targets has been manufacturing the best 3D archery targets on the market, and Rinehart expanded their offerings with the introduction of the Doloma Decoys. A combination of quality, durability and unique offerings makes all Rinehart products one of a kind and true in both scale and detail thanks to Rinehart's award-winning team of wildlife sculptors. Rinehart's diverse target line has been extremely well received by all levels of archery shooters and will continue to introduce cutting-edge technology in the future.