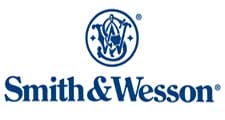 Springfield, MA -(AmmoLand.com)- Team Smith & Wesson's David Olhasso and Josh Lentz both won national titles at the Smith & Wesson US Steel Nationals Championships which took place March 18-20 at Volusia County Gun and Hunt Club in New Smyrna Beach, Florida.
The weather was spotty this year, causing competitors in this exciting and highly anticipated annual championship to shoot some stages in the rain while vying for a total of 15 division titles.
The match was comprised of eight stages consisting of four steel targets and a stop plate with distances ranging from seven to 35 yards. With an event focus on speed and shooting skill, competitors were required to draw their pistols and make shots on each target before hitting the designated plate to stop the clock. Time was added for misses or if the stop plate was shot prematurely.
Shooting the Smith & Wesson Performance Center 929, Olhasso dominated the Open Revolver Division with a time of 102.67 seconds, winning six of eight stages. His total match time was 4.29 seconds faster than the second place finisher. He also placed third in the Iron Sight Revolver Division winning two stages and finishing with a time of 120.01 seconds.
"This was my first national match using the Smith & Wesson Performance Center model 929 revolver," said Olhasso. "Even though this revolver is a bit different than the gun I was using last year, I was able to perform extremely well with it. The eight-shot, lightweight Titanium cylinder along the Performance Center tuned action gave this revolver the capacity, balance and accuracy needed to help me capture the Open Revolver US National title once again."
Josh Lentz won the Iron Sight Revolver Division with a time of 109.39, winning a total of four stages. He shot the Smith & Wesson Performance Center 929. Lentz also placed third in the Open Revolver Division using the Smith & Wesson Performance Center 327.
"This was my first year shooting the match with Smith & Wesson's Performance Center revolvers and they were outstanding," said Lentz. "The out-of-the-box enhancements, such as the smooth double-action trigger pull, light-weight materials like the Scandium frame and chamfer Titanium cylinder for improved speed and balance, as well as the incredible accuracy that comes from the Performance Center revolvers, all gave me the edge over my competitors to place in the top spot."
About Smith & Wesson:
Smith & Wesson Holding Corporation (NASDAQ Global Select: SWHC) is a U.S.-based leader in firearm manufacturing and design, delivering a broad portfolio of quality firearms, related products, and training to the global military, law enforcement, and consumer markets. The company's firearm division brands include Smith & Wesson, M&P, and Thompson/Center Arms. As an industry leading manufacturer of shooting, reloading, gunsmithing and gun cleaning supplies, the company's accessories division produces innovative, top quality products under Battenfeld Technologies, Inc., including Caldwell Shooting Supplies, Wheeler Engineering, Tipton Gun Cleaning Supplies, Frankford Arsenal Reloading Tools, Lockdown Vault Accessories, and Hooyman Premium Tree Saws. Smith & Wesson facilities are located in Massachusetts, Maine, Connecticut, and Missouri.
For more information on Smith & Wesson, call (800) 331-0852 or log on to www.Smith-Wesson.com.