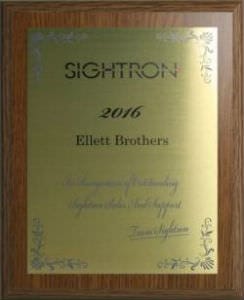 Chapin, SC -(AmmoLand.com)- Ellett Brothers is pleased to announce that it has been recognized by Sightron for outstanding sales and support of their products throughout the 2015 campaign.
"Working together with Sightron gives us the pleasure of offering our dealers reliable end-to-end high-grade optics at competitive prices in various outdoor sport categories, and this translates into excellent value for the money across the board," stated Brad Johnson, USC Chairman and CEO.
Founded in late 1993, Sightron modeled its business to provide premium quality products in all lines of optical goods for the outdoor sportsman. Today Sightron has continued this commitment of providing quality optics since its inception with designing and producing the latest technological innovations for the optics industry. Their optical equipment is designed, tested and retested by Sportsmen for Sportsmen.
About United Sporting Companies (USC):
United Sporting Companies (USC) is a leading nationwide distributor of hunting, outdoor and marine products. The company operates through two subsidiaries, Ellett Brothers and Jerry's Sport Center which were founded in 1933 and 1949, respectively. Providing the Industry's largest product selection of over 85,000 SKUs in combination with the endless support of the most knowledgeable sales force in the country, USC proudly and efficiently serves over 30,000 independent retail customers across all 50 states through sales offices and distribution centers in Chapin, SC, Newberry, SC, Pittston, PA, Downingtown, PA, Dayton, OH, Spring Hill, KS, Dallas, TX, and Sacramento, CA.
For more information, visit: www.jerryssportscenter.com.