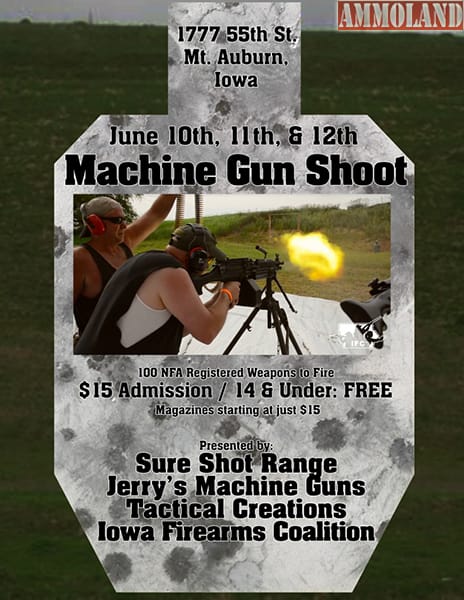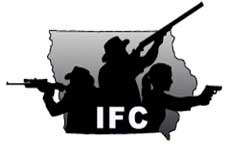 Iowa –  -(Ammoland.com)- Yes you read it right IFC is proud to be part of the second full auto machine gun shoot in Iowa!
Our good friends and IFC members, SureShot Range, Jerry's Machine Guns, Pearson Guns, and Tactical Creations have invited us to be a part of this excitement!
The Iowa Firearms Coalition will have a number of pro-Second Amendment guest speakers on hand, as well as a side shoot to raise funds for IFC-PAC. All money raised for IFC-PAC will be put to use getting pro-gun owner candidates elected to the Iowa Senate and House of Representatives.
Please come out and take part in this fun, as we will have guest speakers there to answer questions about very important state political races coming this fall.
Because we will be there having fun for 3 days we could use some help. Our main concern will be with parking and help with directing guest in and out. We could us about a dozen or more helpers so we can take breaks and enjoy the fun.
Please contact me if you would like to help out.
And please visit the link for more info and directions : http://iowafc.org/blog/2016/05/12/2016-machine-gun-shoot/
As always thank you for your support
Donnie White
State Show Director
Iowa Firearms Coalition
About Iowa Firearms Coalition:
Iowa Firearms Coalition is an entirely volunteer, grassroots, Second Amendment advocacy group. Responsible for bringing uniformity to Iowa's Concealed Weapons Permitting process, IFC's members work to protect and enhance Second Amendment rights in Iowa. An affiliate of the National Rifle Association, the IFC actively seeks to foster and promote the shooting sports. Sign up for our email list for the latest on Second Amendment issues in Iowa. You can support our work by becoming a member, or making a donation.
For more information, visit: http://iowafc.org.