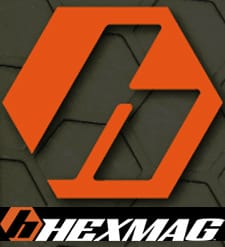 Loveland, CO -(Ammoland.com)- Hexmag has recently been awarded the patent on our True Riser in our 10 and 15 round magazines.
This patent is very important to us as we have developed an evolutionary system to offer factory made 10 and 15 round magazines for capacity restricted states.
The Hexmag True Riser system for standard size Hexmag magazines was carefully engineered, with the Ar-15 consumer in capacity restricted states mind. You get a standard size magazine that is magazine pouch friendly, looks natural in your AR-15 and can still be dissembled for normal, routine cleaning/maintenance or to change the HexID system.
It features our patented True Riser and a short spring, the True Riser brings the base of the spring up mimicking internally, a dedicated 10 or 15 round tiny magazine without the drawbacks of a tiny magazine. This has all been done here at the Hexmag facility to eliminate 3rd party dealer "blocking", "pinning", or "gluing" the magazines. Ultimately saving the dealer and consumer considerable amounts of money. Hexmag 10 and 15 round magazines have the same MSRP as the standard capacity 30 round Hexmag magazines of $14.99.
Our HX10/30 10 round magazines were made for California, New York, Hawaii, Massachusetts, Maryland, Chicago, Connecticut, Washington DC. The Hexmag HX15/30 15 round magazines were made for New Jersey and Colorado. If you live in one of these states or areas with a magazine capacity restriction you are not alone, rest assured that Hexmag has your back.
All Hexmag magazines come with a Lifetime Warranty. For more information please visit the Hexmag 10 and 15 round magazine page on our website.
About Hexmag:
Hexmag, founded in early 2013, was an exercise in 3-D design and printing. We chose an AR-15 magazine as our project. We found out it was not easy to create a working AR magazine. Getting the AR magazine to fit in a lower receiver and stacking exactly 30 rounds into the magazine was not easy. Then firing those rounds reliably made our task almost impossible. Rather than give up on our design efforts after one attempt, we kept working on the project. We refined our design again and again. We were driven to make it work.
For more information, visit: https://hexmag.com.