Day two of the POMA conference kicked off with a two hour panel discussion about how the public perception of hunting has changed and how we take the lead to mold our message moving forward.
The panel was comprised of leaders in the hunting and conservation world and the conversation was deeply intellectual, the likes of which do not happen often enough.
The panel tackled the broad topic of preserving wildlife and communicating hunting. Dozens of micro topics were then debated and discussed underneath this enormous umbrella. One of the most poignant facts of communicating hunting, which came out of listening in on this discussion was the point that hunting is so complicated it is not easily discussed or explained due to the layers upon layers of explanations. If you have been paying any attention over the past two decades, people gravitate towards sensationalized and emotion filled sound bites with which they make decisions and influence the direction of society.
Topics like the use of the word trophy hunting were discussed and the complex importance of trophy hunting, but its negative connotations in the minds of those outside of the hunting culture are what people grasp onto. Discussions on how to set a new standard among hunters and how we communicate our passion was one of the core underlying messages. How do we get this point across to the hunters who may never care about the conversation. More questions and topics were discussed, but the ground work was set as the early afternoon was dedicated to roundtable discussions on ideas and messages to begin compiling a POMA white paper on the topic.
Day two of the conference also contained the Corporate Partners Product Showcase. Great new gear from backpacks to trucks were on display. With more than 15 new Corporate Partners, there was plenty of new gear to look through. Here are the top 10 items
12 Survivors: 12 Survivors is a survival gear brand who provides a wide range of gear from tents to knives, headlamps, packs and much more. What caught my eye was the First-Aid Rollup Kit. At 2lbs. and only 15 inches long, the kit can fit anywhere in the house or in the truck or even attaching easily to your gear. Complete with zipped pouches containing a variety of essential first-aid gear like an emergency blanket, a poncho, scissors and PBT elastic bandages, this $59.99 gear set should be in your gear when you leave home. www.12survivors.com.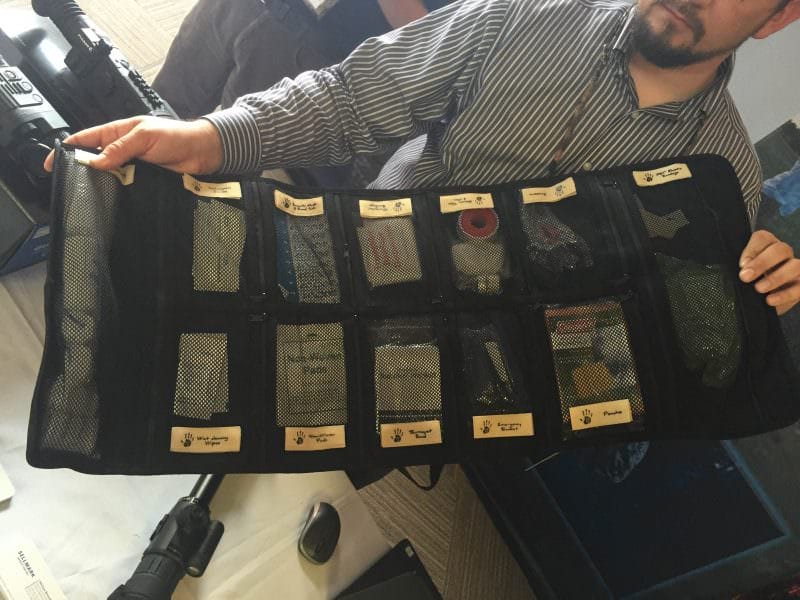 Sightmark XT-3 Tactical Magnifier: Build for tactical application the XT-3 Tactical Magnifier helps shooters get on target quickly. A flip mount design, the XT-3 provides 3.5 inches of eye relief for refined shooting comfort. The sight provides quality 3x magnification. For $119.99 this is a quality sight that won't break the bank.www.sightmark.com.
Walther PPS M2: A sleek, compact handgun, empowered citizens can rely on the smooth shooting and ergonomically designed grip for superior accuracy. Only an inch wide, this gun is easily concealed. and comes in 9mm and .40S&W. The Teenier coating keeps this gun corrosion free and can withstand use and abuse. www.waltherarms.com
Browning Pet Products: Browning has launched into the world of pet products for sportsmen and their trusted hunting companions. Useful for everyone wanting to take their hunting partner out to the field, but needing to keep the truck clean, this seat cover is waterproof and made from durable materials to keep your backseat clean and protected. Machine washable, this cover is only $39.99. Get it before duck season. www.spgoutdoors.com.
Mason Target Systems: Former Top Shot Champion Chris Cheng and his business partners have launched a cloud integrated steel target for fast feedback on the range that sends your hits to your electronic devices. Durable and affordable, gun ranges and hardcore enthusiasts will want this target so they can see where they hit. www.masontargetsystems.com
Bio-Strike: Hunters Specialties introduced a proprietary formula to help treat your clothes before long hunts and keep them scent free for nearly a month. These little pre-treatment packets are simple to use and help folks who won't be near a washer for several weeks. Bio-Strike uses Silver nanoparticles to attack and destroy odor causing bacteria. A great addition to your scent control process. www.hunterspec.com
Corpsman Pioneer Airbow: One of the newest products to shake the archery niche is the Airbow from Crossman. Capable of shooting bolts up to 450FPS, the new Airbow weighs 7 lbs, is 33.5 inches long, but only 2 inches wide and can be loaded with two fingers and is capable of taking the toughest of big game animals. www.crosman.com
ALPZ Outdoors Traverse X: A quality day pack built for the western mountains, the Traverse X is built from  durable materials with comfortable foam molded straps, waist and back support. This pack gives you plenty of pockets to hold gear and your water bladder, but has the ability to haul downed game off the mountain. No more having to head back to the truck to trade out for your pack frame, you can break your animal down and start hauling meat back without wasting time. www.alpsoutdoorz.com
Berga B-14 Woodsman: A quality rifle providing a great price with the features sportsmen need to ethically take big game, the B-14 woodsman has a two-lug bolt system and has a crisp clean trigger break for improved accuracy. The stock is a beautiful walnut and the gun weighs a little over 7 lbs. These guns can be purchased with either a detachable magazine or hinged door floor plate. www.bergarausa.com/bergara_b-14
POMA provides a great atmosphere for companies and media personnel work together to create quality projects and content for companies and consumer knowledge. Learn more about POMA by visiting ww.professionaloutdoormedia.org.