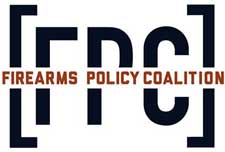 Sacramento, CA -(AmmoLand.com)- Gunpocalypse is on course for California Governor Jerry Brown's desk.
That means we need YOU to voice your opposition to Governor Brown and ask that he VETO the 12 anti-gun bills RIGHT NOW!
And as a thank you for submitting your petition, we will automatically enter you into a giveaway for a Smith and Wesson M&P Shield 9mm handgun.
TELL THE GOVERNOR TO VETO GUNPOCALYPSE… ENTER TO WIN A SHIELD
The Constitutional crisis could not be any more urgent.
Once these bills are passed, they will become law unless Governor Brown hears from you and vetoes Gunpocalypse.
We need all hands on deck to ensure the Governor hears YOUR voice over the cackle calls of the Brady Campaign.
Honestly, what can be better than fighting for your gun rights and being entered to win a gun?
For Liberty,

Richard Thomson
Grassroots Director
About Firearms Policy Coalition (FPC):
Firearms Policy Coalition is a grassroots 501(c)4 nonprofit public benefit organization. FPC's mission is to protect and defend the Constitution of the United States, especially the fundamental, individual Second Amendment right to keep and bear arms.
More information about FPC can be found at www.firearmspolicy.org.