By Glen Wunderlich
My review of the Winchester Varmint X Shotshell ammo in my Browning Silver shotgun.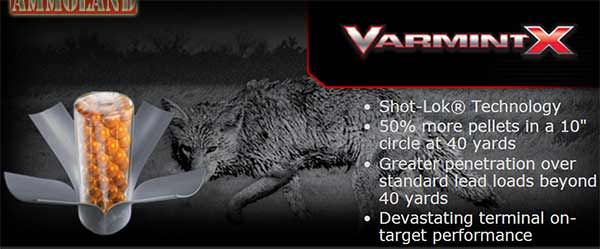 USA – -(Ammoland.com)- A couple of years ago at a media event, I got one look at a patterning target shot at 60 yards with Winchester's then-new shotshell offering in its Long Beard XR product.
Since then, I've been a fan of the technologically advanced shells for turkeys.
Naturally, when Winchester unveiled its new Varmint X line of shotshells, I had to see how it stacked up. What follows is a brief summary of my findings at the range.
Winchester's Varmint X Line now includes a 12-gauge shotshell with Shot-Lok Technology.
Winchester Varmint X Shotshell
For hunters that hunt in heavy cover, such as is common in Michigan, shotguns can be an ideal choice as either a primary firearm or a close-in option when hunting with a partner outfitted with a rifle.
Shot-Lok Technology includes a liquid gel that surrounds the pellets in the shot cup and then hardens. When fired, the shot launches from the barrel nearly perfectly round as the hardened resin fractures and disperses like any shotshell buffer. The result is extremely tight, long-range patterns.
Hunters have been able to achieve reliable patterns much farther out than standard shotshell loads of the same gauge and shot size—adding even as much as an additional 20 yards in reliable shot distance.
The new Varmint X shotshell load is available in a 3-inch offering loaded with 1½ ounces of plated BBs that leave the muzzle at 1,300 fps. At 40 yards and beyond, hunters can expect to deliver up to 12 inches of penetration combined with enough devastating knockdown power to handle the largest coyotes, foxes and more.
In my brief testing at 40 yards with my Browning Silver shotgun and a Browning turkey choke, the load put 72 pellets in a 30-inch circle out of the total of 73 pellets in the load! In addition, 9 pellets hit the 5 ½-inch aiming bull's eye. At 50 yards, this load printed 65 pellets in the 30-inch circle, while still placing 8 of them in the 5 ½-inch bull's eye. That's some good stuff! I didn't go beyond that, because I question the ethical energy of this size shot so far out.
"Until now, predator hunters who use shotguns have had to use shotshells designed for other game. This dedicated load with Shot-Lok Technology offers them the proven performance they need from a shotshell to deliver tight patterns at longer distances and will work perfectly on a broad range of predators," said Brett Flaugher, Winchester Ammunition vice president of marketing, sales and strategy.
Of course, other top-shelf predator shotshells are on the market, but be prepared to spend up to $5 per round for the good stuff. Alternatively, the price point for the Varmint X is about $1.70/round from www.MidwayUSA.com.
For reference, BB lead shot is .18″ diameter with a pellet weight of 8.75 grains. Coyote hunters that I've heard from tend to prefer #4 shot with a diameter of .24 weighing in at 20 grains but to date Winchester's only option in the new configuration is the BB loads.
However, knowing your range afield and staying within your limitations, the BB load packs enough punch to knock the carnivores dead.
We found the best prices on Winchester Ammunition online at Brownells. : http://goo.gl/JH7G9Y ~ AmmoLand
About Glen Wunderlich:
Charter Member Professional Outdoor Media Association (POMA). Outdoor writer and columnist for The Argus-Press (www.argus-press.com) and blog site at www.thinkingafield.org  Member National Rifle Association (NRA), Michigan United Conservation Clubs (MUCC), member U.S. Sportsmen's Alliance (USSA), Quality Deer Management Association (QDMA), Commemorative Bucks of Michigan (CBM).