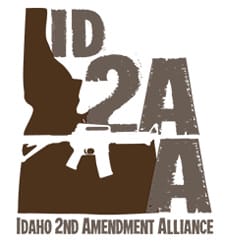 Canyon County, ID -(AmmoLand.com)- It was just earlier this year that the Idaho Second Amendment Alliance fought for Constitutional Carry, and we won!
With YOUR HELP we pushed through the biggest gun rights victory in decades here in Idaho.
We worked with great elected officials across Idaho to make it happen.
Unfortunately, not all elected officials felt that you deserved your right to keep and bear arms!  Some felt that your right to carry concealed without a permit was something the government should continue to control.
Several Republicans and nearly every Democrat voted AGAINST your gun rights.
Rep. Paulette Jordan (Democrat-District 5-Seat A) has been voting against Constitutional Carry for years.
(District 5 covers Latah County and Benewah County. Some of the cities in Dist. 5 include Moscow, St. Maries, Plummer, Tensed and more.)
In 2015 Rep. Jordan voted against House Bill 89 (Constitutional Carry) in the House State Affairs Committee.  She didn't even want the bill to have a hearing!
This year she voted against Senate Bill 1389 (Constitutional Carry) in committee and on the House floor.
It is clear from her record that she has no intention of voting for pro-2nd Amendment legislation anytime soon.  In addition to her anti-2nd Amendment votes, Rep. Jordan has also REFUSED to return our survey on gun rights.
This year, Carl Berglund (Republican) is challenging Rep. Jordan for seat 5A.
Mr. Berglund has returned our survey with 100% pro-2nd Amendment answers.
The race for Seat 5A is said to be one of the hottest and closest races in the State of Idaho.
We NEED your help to inform voters in the District about where these 2 candidates stand on gun rights!
Time is running out for us to inform voters in District 5.  The election is just around the corner.
Your donation TODAY can help us blitz social media, drop fliers, and send mail to voters in District 5.
District 5 may not be your district BUT this is YOUR state.  And elections in every district are important to all of us.
PLEASE consider a generous donation of $200, $100, or even $50 RIGHT NOW to help us keep voters informed!
You can donate by going to www.idahosaa.org/donate and with your help we can make a difference.
Sincerely,
Greg Pruett
President, ISAA
P.S. I can't stress enough how important it is that we inform voters in District 5 right now! Even if you can't do $200, a small donation of $100, $50, or even just $25 will go a long way to helping us blitz District 5 with everything we have!
Idaho Second Amendment Alliance:
The Idaho Second Amendment Alliance exists to fight for the 2nd Amendment rights of all Idaho citizens. Even in a gun friendly State like Idaho, the 2nd Amendment is under constant threat.
For more information, visit: www.idahosaa.org.