By Mike Searson
Kahr P40 Compact Carry Pistol review and test.

United States -(AmmoLand.com)- One of our favorite firearms companies is Kahr Arms.
No, we do not own one (although we have in the past), but sometimes it's just the story of a company that grabs you more than the product. First of all, they set out to make a concealable semi auto pistol when the market was pretty limited and they did a fine job on that front.
We admire one of their business tactics, though.
While headquartered in New York with a factory in Massachusetts, they proudly told the government of both states to pound sand and relocated to rural Pike County, Pennsylvania.
The pistols are still made in Massachusetts, but they hope to have an assembly line going in Pennsylvania within the next year or two.
They own a few other companies too, including Auto Ordnance and Magnum Research.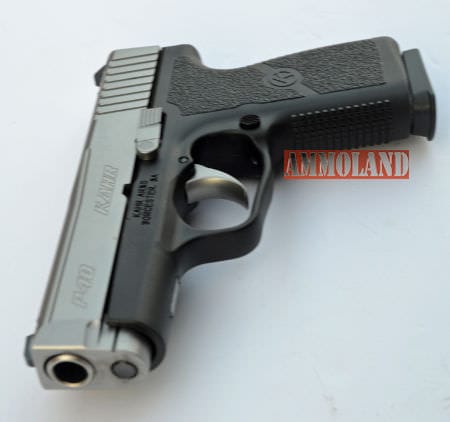 Kahr came found their groove in the 1990s with the rise of concealed carry reform in the US. This was on the heels of the Federal Assault Weapon Ban which limited magazine capacity to 10 rounds or less. A firearm designed from the ground-up as a concealed carry piece had a huge advantage over the rest of the industry that had to play "catch up".
When we first saw a Kahr pistol in 1995 or so, the gun shop clerk referred to it as an "all-metal Glock". After close inspection we realized it was an over simplification on his part.
There are similarities, but Kahr pursued different innovations that made them stand out from the crowd.
We have always been impressed with how small these pistols are while remaining comfortable to shoot
Their big concern in the beginning was a way to get the weight down and they achieved it by rolling out polymer frames soon after their debut.
The locked-breech action utilizes an offset feed ramp that allows for a thinner frame design and a low bore axis and the metal slide runs on metal rails set in the polymer frame that allows for smooth cycling.
Like most striker fired pistols, the rifling is polygonal.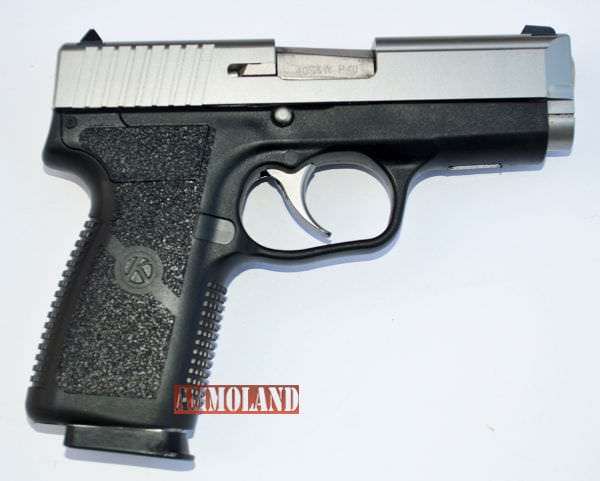 For those not familiar with the term, it differs from traditional rifling which uses "lands and grooves" cut into the barrel. Polygonal rifling is more often referred to as "hills and valleys" as they are more rounded and often have more surface area contact with the bullet.
This leads to improved accuracy, more consistent velocity and reduced drag on the bullet. It also increases barrel life and reduces copper fouling.
However, it can make the firearm more prone to barrel leading, which in turn can cause pressures to rise if the firearm is not cleaned often enough. If you do not shoot lead or plated ammunition, this is a minor concern.
We took a Kahr P40 for a recent test run at the range. It had been a few years since we tried one of these pistols and the results were pretty much the same then as they were now.
At 25 feet we achieved a 3" group using Freedom Munitions 40 S&W ammunition. While not a full on torture test, we wrung out a few hundred rounds and experienced no malfunctions apart from one flyer and one incident of dropping the magazine unintentionally, but that was purely shooter error.
Kahr P40 Pistol The Good
Great ergonomics mark the beginnings of a great pistol. The Kahr's small profile makes for a great feel in the hand. So many other compact and sub-compact pistol manufacturers cut their grip frames a bit too short (for concealment purposes). And often make the shooter rely on magazines with pinky extensions. Kahr got this one right from the beginning.
We truly appreciate the one-piece factory trigger, which may be a bit hevy at 6 lbs for match shooting. It has no creep or slop and travels about 3/8″. Of all the semi auto pistols we have fired over the years, we find Kahr's trigger to be closest to a DA revolver. Some will like this, some may not. We think it is fine for a pistol in this role.
Concealability is superb with its sub-one inch width. The Kahr P40 pistols are extremely flat from side to side.
The Kahr P40 Pistol's stainless slide and polymer frame will make it rust resistant and there are no sharp edges found anywhere making it perfect to keep close to your body all day.
Lastly, the Kahr P40 ships with three six-round magazines.
Kahr P40 Pistol The Bad
Most shooters will not appreciate the authority of a 40 S&W until they try it from a polymer framed compact or sub-compact pistol.
We did not find the P40 in 40 S&W unbearable, but a few of our shooting partners did. As with any pistol you want to stake your life on, we recommend renting one at your local range or trying out a friend's Kahr before you drop the cash on one.
The sights may take some a little getting used to. We like them but have heard complaints from shooters more used to traditional three dot sights.
There is no rail on the pistol on which to mount a light. Nor is there a threaded barrel with which to add a silencer, but this is intended more for concealed carry as opposed to a tactical fighting gun.
Accessories are out there, but may take a little hunting to find.
Kahr P40 Pistol The Reality
For a well built, 100% made in the USA pistol designed from the ground up for concealed carry; you will not go wrong with a Kahr. It conceals well and shoots better than most others in this class.
If 40 S&W doesn't float your boat, Kahr offers the P40 pistols in 9mm, 380 ACP and 45 ACP. If you suffer sticker shock, they do offer a value priced line in the CW series.
Kahr P40 Pistol Product Specifications:
Caliber: 40 S&W
Capacity: 6+1
Barrel: 3.6″
Length O/A: 6.1″
Height: 4.55″
Slide Width: .94″
Weight: Pistol 16.8 ounces
Finish: Black polymer frame, matte stainless steel slide
MSRP: $762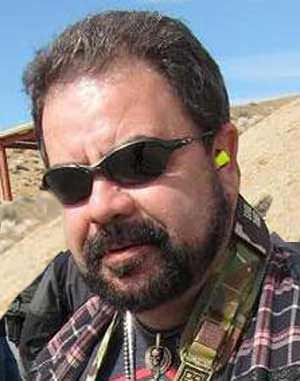 About Mike Searson:
Mike Searson's career as a shooter began as a Marine Rifleman at age 17. He has worked in the firearms industry his entire adult life as a Gunsmith, Ballistician, Consultant, Salesman, Author and was first certified to teach firearms safety in 1989.
Mike has written over 2000 articles for a number of magazines, websites and newsletters. Including Blade, RECOIL, OFF-GRID, Tactical Officer, SWAT, Tactical World, Gun Digest, Examiner.com and the US Concealed Carry Association as well as AmmoLand Shooting Sports News.