by Mike Searson

United States -(AmmoLand.com)- Saddle up, Ammoland is heading out to brush up on our tracking skills!
Ammoland.com will be hitting the dusty trails of southern Arizona to spend nearly a week learning from Jim Grasky at Trailsfound.com. In addition we will be bringing back reviews on how our guns and gear fared in a hard use situation.
Grasky is widely recognized as a master tracker and a horseman who has spent nearly his whole life in the saddle. The former Green Beret, Border Patrol Agent and smokejumper is a subject matter expert on tracking fugitives, lost hikers and in some cases people who do not want to be found.
In addition to numerous law enforcement agencies he has trained personnel from USSOCOM (United States Special Operations Command) and the State Department's Anti-Terrorism Assistance Program and ICITAP (International Criminal Investigative Training Assistance Program).
He is one of the last "old school man trackers" left in the world.
While he has tracked people from helicopters, on foot, ATV and vehicle; he is best known for tracking via horseback.
Horses and mules, believe it or not, are still used by the United States Marine Corps and a full training regimen is offered at the Mountain Warfare Training Center near Bridgeport, California. The Marines and Jim Grasky were instrumental in training US Army Special Forces units such as ODA (Operational Detachment Alpha) 595 and their attached Combat Controllers when they mounted up in October of 2001 to hunt down the Taliban and Al Queda in the remote mountains of Afghanistan. Law enforcement and search & rescue units use them in places as varied as Times Square and rugged, remote stretches of the US-Mexican border.
Much of Grasky's lesson plan comes from the [play books of Tom Jeffords, Al Sieber, Tom Horn, Cochise and the Apache Scouts during General Crook's and later campaigns. Some of this training will occur in Cochise's Stronghold, the Dragoon Mountains some parts of the Coronado National Forest and at least one remote stretch of the US-Mexico border.
When specialized military personnel need to learn horse handling before deploying to some faraway land, many of them quietly visit Grasky in the backcountry of Arizona instead of heading out to Bridgeport.
More than just riding and tracking, Grasky teaches proper care of the animal and its tack, packing and loading gear, water crossings and climbing, tactical movements (including improvised Escape and Evasion issues), etc. In addition we will be hard testing some of our gear and weapons.
It's one thing to read reviews based on a few range sessions; it is quite another to see how it holds up in extreme heat, wind and the conditions of living on the trail in the Southwestern United States for a week.
So look for our tags on social media under #trailsfound16 and #goodgearmatters as we saddle up and bring some real world education to you beyond a typical range session.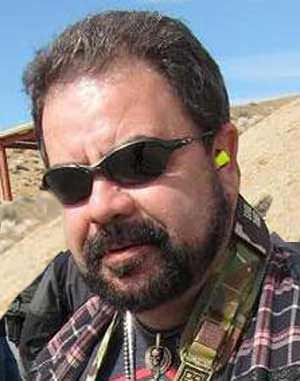 About Mike Searson:
Mike Searson's career as a shooter began as a Marine Rifleman at age 17. He has worked in the firearms industry his entire adult life as a Gunsmith, Ballistician, Consultant, Salesman, Author and was first certified to teach firearms safety in 1989.
Mike has written over 2000 articles for a number of magazines, websites and newsletters including Blade, RECOIL, OFF-GRID, Tactical Officer, SWAT, Tactical World, Gun Digest, Examiner.com and the US Concealed Carry Association as well as AmmoLand Shooting Sports News.