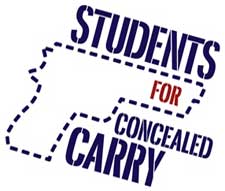 AUSTIN, TX -(Ammoland.com)- On Wednesday afternoon, the University of Texas at Austin chapter of Young Conservatives of Texas drew harsh criticism and more than a hundred counter-protesters in response to the group's "affirmative action bake sale," an event at which members sold baked goods at prices that varied according to the buyer's race and gender.
Despite contentious discussions that sometimes devolved into shouting matches, no guns were draw and no shots were fired.
Thankfully, everyone's First Amendment rights survived unscathed.
"To hear the anti-campus carry activists describe the mood on campus, you'd think that free expression and open debate were dead and buried. But events like this prove that the collegiate traditions of intellectual discourse and political activism are alive and well at the University of Texas." Brian Bensimon, southwest regional director for Students for Concealed Carry, said.
RELATED:
"A Refresher on the Case for Campus Carry in Texas": 
http://concealedcampus.org/2016/05/a-refresher-on-the-case-for-campus-carry-in-texas/
SCC's Oct. 2, 2015 – Oct. 10, 2016, Texas press releases and op-eds: 
https://www.scribd.com/document/319141232/Texas-Students-for-Concealed-Carry-Campus-Carry-Press-Releases-Op-Eds-Oct-2-2015-Oct-10-2016
SCC's 2015 Texas legislative handout (includes Dec. 9 – May 22, 2015, press releases and op-eds):
https://www.scribd.com/document/255815743/SCC-s-2015-Texas-Legislative-Handout
All SCC statements regarding the campus carry policies proposed by UT-Austin:
https://www.scribd.com/document/317821607/Texas-Students-for-Concealed-Carry-Press-Releases-Regarding-UT-Austin-s-Campus-Carry-Policies
ABOUT STUDENTS FOR CONCEALED CARRY — Students for Concealed Carry (SCC) is a national, non-partisan, grassroots organization comprising college students, faculty, staff, and concerned citizens who believe that holders of state-issued concealed handgun licenses should be allowed the same measure of personal protection on college campuses that current laws afford them virtually everywhere else. SCC is not affiliated with the NRA or any other organization. For more information on SCC, visit ConcealedCampus.org or Facebook.com/ConcealedCampus. For more information on the debate over campus carry in Texas, visit WhyCampusCarry.com.