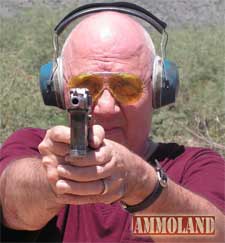 U.S.A. –-(Ammoland.com)- Editors Note: Gun writer Bob Shell makes the case for appreciating the 358 Winchester ammunition round.
Many ammunition rounds, or calibers, have come and gone, dropped off by the wayside.
There may be many causes that they didn't make it but for whatever reason the shooting public didn't display enough interest to continue to produce that ammo.
Some reasons may be valid, such as under performing or not serve a useful purpose. Other rounds are perfectly fine but didn't catch the public's fancy. In that category are most of the 8 mm and 35 caliber rounds. There are some fine offerings there but the American shooter just doesn't display enough interest to give manufacturers an incentive to make the rifles and ammo.
It seems that if it doesn't hold ½ LB. of powder somehow it doesn't measure up. To my knowledge deer haven't grown tougher or acquired body armor so many of the old rounds still will work.
The 358 Winchester round to me, is a real head scratcher as to why it isn't a more popular caliber. The 358 has been around since 1955 when Winchester brought out their model 70 rifle for it. It has been made on and off since then. Even Elmer Keith liked it for a hard hitting brush gun. Other companies such as Remington and Ruger on a limited basis have offered guns in it.
It is available on a limited basis as as newer offerings have grabbed the limelight, such as the 338 Federal. In truth the 338 is a good round but no better than the 358 given the same loads and rifles. Browning offers their BLR rifle in 358 so there is some good news for the 358 fan. They may offer other models in that caliber as well so going through their website may be a good idea.
As a matter of fact the 358 Winchester round is more flexible as it has the ability to use 38 caliber handgun bullets at reduced velocities. Such ammo would be good for small game as well as training a youth or someone who is recoil shy. In addition that would reduce the cost as cheaper bullets and less powder can be used.
There is some factory 358 Winchester ammo made for it such as Double Tap and Hornady. With good loads it is capable of handling almost any situation a hunter may encounter, including bears. It is flexible and that is especially true if you handload, as it can utilize 38 caliber handgun bullets. In a strong bolt action you should be able to get 2700 FPS with a 180 grain bullet, but I don't intend on trying those loads in this particular rifle.
35 caliber hunting rifles have been around for many years.
The Winchester model 95 made use of the large rimmed 35 Winchester round, which was and still is useful for hunting despite being obsolete for many years. Another early round is the 351 WSL which came out in 1907. It takes a slightly smaller bullet, the .351, as opposed to a .357 or .358, but is a 35 caliber none the less. While smaller then the other rounds it is capable of harvesting a deer or pig at woods ranges.
There was also a 35 WSL but it was underpowered for deer and generally considered useless.
The 35 Remington also was a early 35 caliber rifle and is still around today with good reason. The .356 Winchester is nothing more then a rimmed .358. The idea was to give more power to the Winchester lever action rifles but they cancelled out some of that advantage by limiting it to flat point or round nose bullets due to the magazine design. At woods ranges it would hit hard but it never caught on and both guns and ammo are scarce.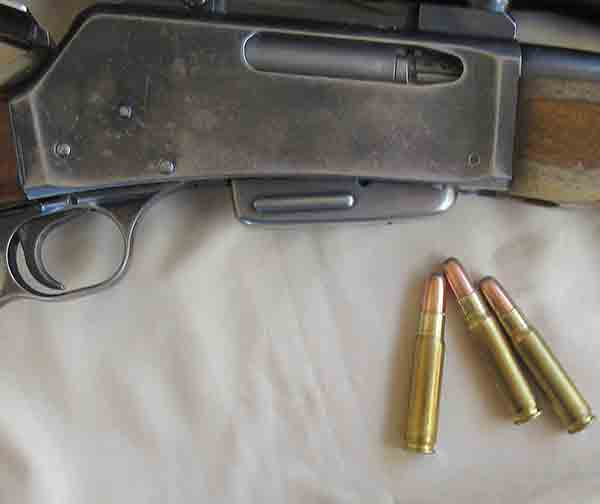 The rifle used in this review is a Browning lever action bought in 1977 and the original owner still has it. It is well worn showing that it spent a lot of time in the woods and has harvested many deer.
He always tells me that that rifle is just like an old friend that he knows and trusts. The owner lives in LA and is generous enough to allow me to use it for load testing.
I have been making ammo for it for many years mostly Hornady spire points and more recently a 200 gr round nose. The round nose load was reduced due to recoil considerations and he reports that it is very effective on deer in the woods which isn't surprising. The initial brass used is 308 necked up which is an easy chore and is in plentiful supply. I have used it in making 260 and 7mm 08 with good results. Starline is planning on making 358 and just recently started making 308 some used in this test the brass is typical of their high quality I get from using this product.
For most of the testing I used 308 brass necked up as I have a lot on hand. They were mixed headstamps and nothing special was done except to check length which were a little short. In my view it isn't necessary to use new or match brass on such a rifle. It is a lever action that has seen a lot of use and wouldn't be able to take advantage of match brass. The 308 cases produced consistent and accurate ammo which is what we are looking for. Some of the .308 cases were loaded and fired several times with no issues or brass loss. A lot of dead deer can attest to the effectiveness of these loads.
When my friend first bought this Browning lever action, he used Silvertip factory ammo and was not impressed by the results but that was the only ammo he could find. Sometime in the 1990's he found me and I started making ammo for it. The load was IMR 4895 and a 200 grain Hornady spire point. He said that when he shot deer with that load they went down as if they were hit with Thor's hammer. Through the years that load accounted for many deer, some pretty large. In fact, that rifle has 15 notches on the stock for the large deer taken. He had some shots in excess of 225 yards which shows that the .358 has some range. Louisiana has generous bag limits and long seasons, so legally many deer can be taken. For some years they used dogs but later switched to still hunting.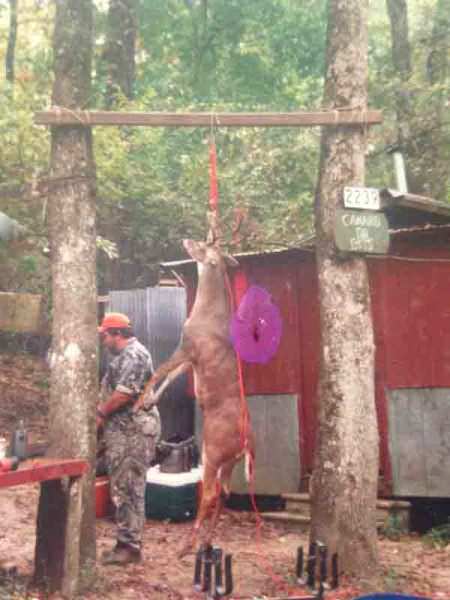 The typical hunting areas are swamp and woods which limits the range of most shots. However they have power lines that they hunt along and long shots are a distinct possibility.
The IMR 4895 and 200 gr Hornady really shoots well I can see why the owner likes it so much. It gives consistent readings and is accurate. I was able to hit targets at about a hundred yards consistently as long as I did my part.
The Leupold scope doesn't hurt either. Another nice thing about the .358 is that premium bullets are not required.
The Hornady bullets that the owner uses are basic cup and core variety. That keeps expenses down and they work. The reasons is they are heavy and with the fairly moderate velocities they won't prematurely come apart. Most large game is shot within a couple hundred yards, well within the reach of a 358 Winchester.
If you are looking for an all-purpose rifle the 358 Winchester might be an answer. Rifle bullets are available from 180 to 300 grains and the 38 caliber bullets are too numerous to list. Cast bullets of many weights work well and are common.
If you can't find the correct brass then necking up .308 brass works well, in fact all of the brass used is exactly that.
The 35 Whalen is a more powerful caliber version and shares the same advantages, but is based on a 30-06 as opposed to a .308. There is enough power to handle most hunting situations with manageable recoil. If power is your main objective there is the .358 Norma which is a very potent round suitable for almost anything. There are other 35 caliber rifles, but if you have a .358, especially in a bolt action, you won't be lacking much particularly with good hand loads.
Speer makes a .357 shot capsule and it can be used in the .358 if you wanted a close range snake load. Just use a few grains of powder and size the neck in a .357 die and you should be in business. It may not feed but that isn't an issue.
The Double Tap 250 grain ammo was too warm for this gun. We had sticky extraction and looking at the head shows some pressure signs. It is probably not dangerous in this rifle but it will produce extra wear which is not desirable in a gun that has this much use. In another 358 Winchester that ammo might be ok. The 200 grain Barnes bullet loaded in the Double Tap ammo also shows pressure signs in this rifle though consistent. I have used Double Tap on many occasions and it always shoots well, though generally on the warm side, which is good for hunting. They have several .358 loads and for more info you can go to www.doubletapammo.net for info. I could get another 100 FPS with some of the 180 and 200 grain loads but again why in this old gun.
If I get a bolt action then I may try and get the maximum performance possible with this round. Hornady has offered loaded ammo but is showing that it isn't in production at this time but cases are so for more info you can go to www.hornady.com for info on their products.
For us reloaders there is some good news Starline is now offering both .308 and.358 Winchester brass. Since they have a good reputation for quality and price their site should be checked out as they are always bring out new calibers. For info you can go to www.starlinebrass.com for info.
After some shooting I can see why knowledgeable hunters like it. For someone who likes a flexible rifle the 358 Winchester is a good choice. There are many handgun bullets both cast and jacketed plus the selection of rifle slugs. With modern loads it can be used for anything in North America. Small game is on the menu with a cast bullet. I found that the 148 grain Wad Cutter is excellent on small game out to 50 yards or so. The same applies to the 35 Whalen and to an extent with the 35 Remington.
Therefore I believe if you have or can get a rifle chambered for 358 Winchester ammunition you will never go wrong.
About Bob Shell
A Custom Reloader of Obsolete and Antique Ammo, Bob Shell, writes about the subject of Guns, Ammo, Shooting and Related Subjects. Visit: www.bobshellsblog.blogspot.com