An American Sailor's Firsthand Account of Pearl Harbor
By Donald Stratton, with Ken Gire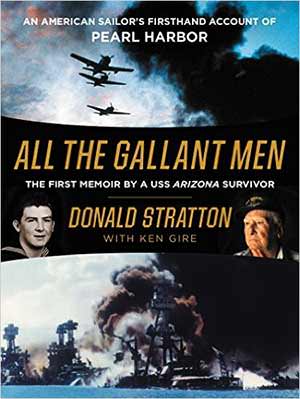 USA –  -(Ammoland.com)- THE UNFORGETTABLE FIRST EVER MEMOIR BY A USS ARIZONA SURVIVOR:
His miraculous, untold story of survival on December 7, 1941
Burned over 2/3rds of his body, Don spent a year recovering in a military hospital
Inspiringly, Don reenlisted in 1944 and would join the invasion of Okinawa, earning the rare distinction of having served at both the first and last battles of WWII
Don Stratton is 1 of only 5 survivors of the USS Arizona still alive today
Now 94, Don has been married to his wife Velma (90 years old) for 66 years
All the Gallant Men argues the lessons of Dec 7th still resonate seventy-five years later
William Morrow is proud to announce the publication of ALL THE GALLANT MEN: An American Sailor's Firsthand Account of Pearl Harbor (William Morrow Hardcover; November 22, 2016; $27.99; ISBN: 9780062645357), the extraordinary first and only memoir by a survivor of the USS Arizona has already been lauded as "intimate and powerful" (Library Journal).
Out of a crew of 1,511 men on the Arizona, only 334 survived and 94-year-old Donald Stratton is 1 of only 5 survivors alive today.
On December 7, 1941, the Arizona was moored in Pearl Harbor, Hawaii, alongside seven other American battleships. At 7:55 a.m., the leisurely Sunday morning's serenity was broken by the drone of bomb-laden Japanese Zeros swooping from the sky. The Arizona was the first battleship targeted in a massive attack by Japan; 353 imperial war planes swarmed Battleship Row and neighboring Hickam Airfield in a meticulously planned surprise assault launched to cripple America's Pacific Fleet.
Amid the terrifying chaos of explosions and incessant machine gun fire, 19-year-old Seaman First Class Donald Stratton raced to his battle station on the Arizona. Barely fifteen minutes into the attack, a 1,760-pound armor-piercing bomb hit the ship, setting off a million pounds of munitions and 180,000 gallons of aviation fuel aboard. The explosion lifted the battleship out of the water causing the forward deck to buckle, and engulfed it in an enormous fifty-foot fireball that tore through the anti-aircraft platform where Don and his team were stationed.
Burned over more than sixty-five percent of his body, Don and his gunnery team miraculously escaped the inferno; using their charred hands, they climbed across a seventy-foot-long rope stretched forty-five feet above flaming, oil-slicked water to reach the Vestal moored nearby. While Don made it out alive, 1,177 of his crewmates perished—more than half the Americans killed in the attacks that drew America into the largest armed conflict in history.
But this remarkable story doesn't end here.
After more than a year of grueling treatment, including learning to walk again after refusing doctor's advice that his legs be amputated, Don was given a medical discharge by the Navy, who believed he would never again be fit for service. Returning home to Nebraska, Don grew determined to return to the fight and decided to attempt to reenlist. The Navy was skeptical and made his repeat basic training to prove his fitness. He flew through basic training and in the summer of 1944 was assigned as a gunner's mate to the destroyer USS Stack, shortly bound for the bloodiest battles of the Pacific, including the crucial campaigns in the Philippines, New Guinea, and Okinawa, the war's final battle.
Looking back on why remembering Pearl Harbor today is important he says: "I have visited the Arizona Memorial on fifteen occasions over the years. Each time, the number of my shipmates grows smaller, which makes the burden of bearing witness greater. As long as I have life, I will tell the story. A day will come, though, when I can no longer do that, when all of us survivors can no longer do that. This is why the memorial is so important. It keeps the story alive."
About the Author:
Donald G. Stratton was born in 1922 in Inavale, Nebraska. After graduating high school, he enlisted in the Navy, and reported for duty on the USS Arizona on December 9, 1940. After a year of recuperation following the Pearl Harbor attacks, Stratton re-enlisted in the Navy and was commissioned to the USS Stack, where he finished his tour of duty in the Pacific, serving at Guadalcanal, Leyte Gulf, and Okinawa. He is one of only five living survivors from the USS Arizona. He lives with his wife, Velma, in Colorado Springs, Colorado.