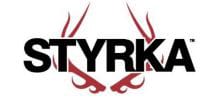 USA -(Ammoland.com)-  Styrka's flagship S9 Binocular line was created for hunters who need to see what's moving in the shadows at dawn and dusk-and all the hours in between.
S9 Binoculars are made with top-flight features and world-class engineering, at prices literally $1,000 to $2,000 less than comparable models.
Features like …. Extra-low Dispersion objective lenses on the 8x42mm and 10x42mm models that virtually eliminate chromatic aberration, plus high-grade SK-15 prisms for increased brightness and contrast.
These binoculars allow hunters to glass for longer periods in the lowest, low-light conditions. The advanced coatings dramatically increase light transmission for bright, high-contrast images with better resolution, superior clarity and precise detail.
Step up to the larger, 15x56mm model, a great companion for the Western hunter who scans miles of open landscape in search of that trophy. The 15x56mm's use the advanced Abbe Koenig Prisms, a hybrid of a roof and porro prism design.
This system allows for a more compact design (similar to a roof prism design) with a more direct optical path (like a porro design).
Result? Light travels through the 15x56mm Styrka S9's with less reflective surfaces, so less light is lost compared to traditional roof prism designed binos. More light equals better resolution and clarity.
All S9 Binoculars are built on an ergonomic, open-bridge design that allows fingers to wrap around the barrels of the binocular for improved grip.
They are 100% waterproof, in a fully-sealed housing submersion tested for 30 minutes in 1 meter (3.3 feet) of water.
The internal housing is purged of air and filled with dry nitrogen gas to prevent internal fogging, while the rubber armor surfaces provide tough, durable protection and a secure no-slip grip.
The eyecups twist up or down for a custom fit to the hunter's eye, with or without glasses. Like all Styrka optics, these S9 Binoculars are covered by the "Styrka Pride" warranty.
If you ever have a problem with your S9 binoculars, your optic will be fixed or replaced. Forever. Plus, once a year, send back your S9's and the company will clean and tune them as needed, all on Styrka's tab.
For more information, please visit www.styrkastrong.com.
About Styrka:
Launched in 2015, Styrka offers a dynamic line up of hunting scopes, binoculars, red dots and spotting scopes. The Styrka philosophy is simple but non-negotiable: make high quality optics at affordable prices; always tell your customers the truth about what optics can and can't do; and, stand behind your products 100-percent, forever. Styrka Pride. Styrka Strong.
To learn more about Styrka Optics, please visit https://styrkastrong.com/.