By Jason Reid
The classic metal ammo cans in part symbolize the hard fought freedoms of this country, but ammo storage options have evolved, here are some cool product examples.

USA –  -(Ammoland.com)- Why do we love ammo cans? Besides the obvious of holding plenty of ammunition for responsible storage or use on the range and in the field, classic metal ammo cans in part symbolize the hard fought freedoms of this country.
While metal .50 cal cans will always hold a special place in the hearts of shooters everywhere across this country, ammo cans have evolved with the advancements of manufacturing providing more storage and organizational space than ever before.
Here are five ammo cans to check out for yourself.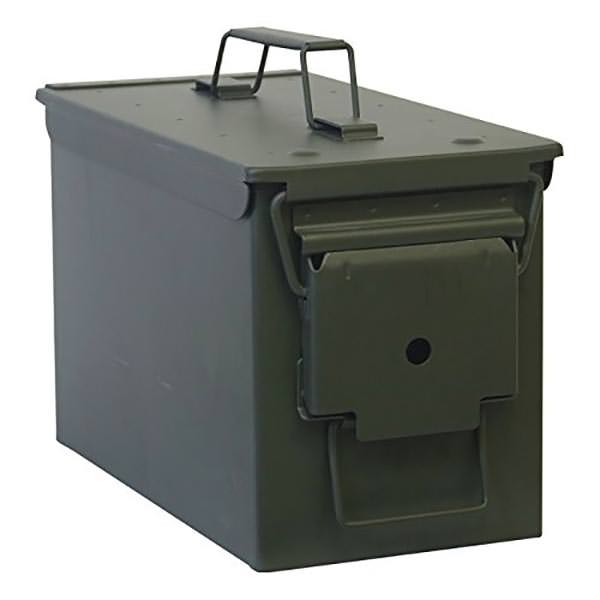 Since metal ammo cans are as American as Apple Pie, lets start there with the Military surplus M2A1 Ammo Can. These true surplus can have a rubber seal in lid makes them air and water tight. Unlike many of the "new" cans on the market, these are made in the USA. The heavy gauge steel box has dimensions of 11″ X 7″ X 5.5" and a removable lid with a rubber gasket. It is simple, classic, and retails for $20.00 or less online.
MTM Case Gard offers a 20 Round ammo case which clips right to your belt. Available in three different sizes for a wide range of rifle cartridges. this handy plastic ammo carrier is perfect for easy access to your ammo while in the field. The box is designed to prevent tip damage and the Snap-Lok latch keeps the case from popping open on accident.
Worn on the belt, the RS-20 keeps twenty rounds at the hunter's fingertips. With each cartridge fitting projectile down, into its own recess, ammo is always ready for easy removal. The calibers listed will provide bullet tip protection with very little rattle; however, calibers not listed will fit loosely: .17, .221, .222 Rem. Mag., .223, .256 Win. Mag., 30 Carbine, .35 Win. SL, 6 x47
Plano is known for their tough outdoor boxes for general gear their famed fishing tackle boxes. The Plano Deep Ammo Can carries on the tradition of tough outdoor gear features measurements of 15″ X 8″ X 10" and can hold six boxes of 3" shotgun shells. Great for the range or for a weekend dove hunt, the large latches snugly secures the box and the moisture seal keeps shells dry to and from the field. Plano has also built a quick access compartment on the top of the box to help organize accessories. Retailing for $17.00 shooters get simple reliability from this ammo box.
Some ammo boxes are made to be beat up in the field. Others are meant to hold ammo but add stylish decor to your man cave. The Evans Sports Wood Ammo Box is made of solid pine and comes with beautifully drawn wildlife pictures on the sides of each box. 16" x 8.25" x 10.5", this box stores ammo and accessories at home with style but won't break the bank retailing for $22.99.
I keep coming back to Plano products for two reasons, they make great quality gear and their ammo boxes are stupid cheap. The simply engineered Plano 100 Count Handgun Ammo Case is great for storing and organizing your ammunition at home or at the range, and are designed to fit multiple calibers. They also work great for transporting and protecting hand-loaded ammunition. Did I mention the best part? They are only $3.79 each, I bought 25 while writing this article.
Tarnshed ammunition is no good to the shooter and can damage guns. With so many so many Ammo Can options on the market, you shouldn't have an issue finding an ammo carrier that fits your needs or budget.
About Jason Reid:
Jason Reid is a writer and business professional from upstate New York. After deciding to pursue his dream of becoming an outdoor writer, Jason started a blog from his dorm room at Houghton College, growing it and working hard to earn opportunities. While bowhunting big game is his ultimate passion, Jason welcomes all outdoor challenges which force him to push his limits. Jason's work can be viewed on his website Pushingthewildlimits.com