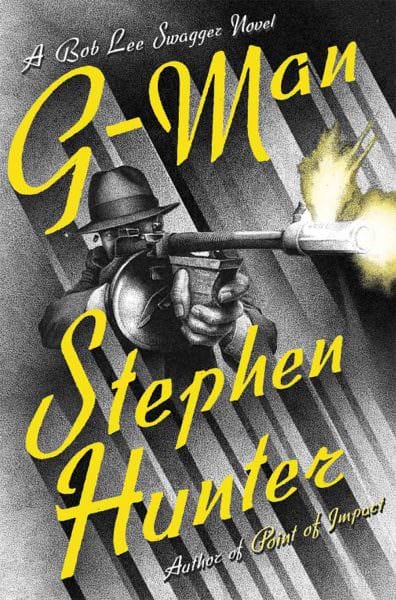 U.S.A. –-(Ammoland.com)- From bestselling author and Pulitzer Prize winner Stephen Hunter, comes the 10th book in his Swagger family saga, replete with Hunter's wicked suspense, vivid gun fights, and historical truths.
In G-MAN (Blue Rider Press | Hardcover | On-Sale May 16, 2017), 1934 was a pivotal year in the ongoing battle between the FBI and America's most famous outlaws–it was a year of giant personalities and huge shoot-outs, and it marked the deaths of John Dillinger, Bonnie and Clyde, and Pretty Boy Floyd, among others. But that year, FBI agent Sam Cowley's priority was to nab the most dangerous gangster this country has ever produced, a man so violent he scared Al Capone and was booted from the Chicago mob–Baby Face Nelson. To stop him, Cowley recruited the most talented gunman of the time–Charles Swagger.
When Bob Lee Swagger finally sells the land he owned in Arkansas, the developers begin to tear down the old homestead and uncover a steel case which contains a batch of 1934 memorabilia, all belonging to Charles Swagger. Bob never knew his grandfather Charles, who died before he was he born, and his father Earl refuses to mention him. Fascinated by this new information, Bob is driven to find out what happened to his grandfather, and why his own father, whom he worshipped, never spoke of Charles. But as he investigates further, Bob learns that someone is following him, someone with his own obsession of finding out what Charles Swagger left behind.
Alternating between Bob's present day search to uncover his grandfather's legacy and Charles's relentless pursuit for the nation's most notorious outlaws in the 1930s Midwest, G-Man is a thrilling, action-packed addition to Stephen Hunter's bestselling Bob Lee Swagger series.
Get your copy of G-Man
About Stephen Hunter:
Stephen Hunter is the author of twenty-one books and there are over two million Hunters novels in print. The retired chief film critic for The Washington Post, where Hunter won the 2003 Pulitzer Prize for Distinguished Criticism. He has also published two collections of film criticism and a nonfiction work, American Gunfight. USA NETWORK adapted his thriller, Point of Impact, for a new 2016 TV series, "Shooter," featuring Ryan Phillippe as Bob Lee Swagger. Mark Wahlberg, who starred in the 2007 movie of the same name, is the executive producer of the series. Hunter lives in Baltimore, Maryland.