by Kevin Reese
U.S.A. –-(Ammoland.com)- To be honest, as a Deplorable, outdoor writer and Marine Corps veteran, a little ink, so to speak, bleeds over into my demented aspiration of publishing more about what Hillary hates most – AR15 platform modern sporting rifles.
Let's face it, the topic of scary black rifles never gets old, does it?
Especially when we can run off the beaten path of mainstream producers to navigate some straight-up aggressive-looking, tight-grouping machines!
In that slightly off-kilter spirit, here are three awesome, Hillary-hated, ready-to-run MSR's straight from the SHOT Show floor:

Not to lean into redundancy here but the manufacturer name, for obvious reasons, is near and dear to my heart. Unfortunately, the thug founder blew a gaping hole through the hearts of countless Jarheads like me… and a great company. Heck, the name sure rocks!
Fortunately, a stand-up gentleman, Barry Bourdage, knows a thing about integrity and walked in to salvage things, starting with open, honest dialogue, continuing with truly respectable transparency and finishing with the building of a team heavily populated by some of my Marine Corps brothers like Walt Hasser and Rudy Reyes. Make no mistake, these guys are committed to recapturing the esprit de corps and honor our Devil Dog name truly represents and have made amazing progress, true to our uncanny ability to do the most with the least.
As a side note, the build quality of Devil Dog Arms rifles also does exceedingly well in mirroring the company's serious reverence for my brothers-in-arms' namesake; they know the name of the company and the logo, by default, hold them to a much higher level of expectation; after all, we did not become The Few, The Proud through mediocrity.
Like a phoenix, DDA has risen from the ashes to truly offer American made, in-house designed and machined AR-platform rifles worthy of the title and I'm proud to celebrate the rise with them! To say I'm excited about their trajectory from this point forward is an understatement. No more false pretense and no stolen valor – that baby was thrown out with the bathwater. There's nothing left but badassery!
It's tough to find a better example of bark matching DDA's new Devil Dog bite than the .308-Win., gas-impingement, semi-automatic 10 MRP Rifle. Certainly worthy of quality trigger time with any of my fellow Leathernecks, the 10 MRP pins more than a Good Conduct Medal on its chest. Features include guaranteed sub-MOA performance at 100 yds.; a magnetic particle inspected (MPI) NiB-X coated bolt carrier group; Geissele or ALG Defense Combat Trigger; Type III hard-anodized finish, 3D billet, Mil-Spec 7075-T6 machined upper and lower receivers; 18-in., LM profile, 1:11-twist, 416R stainless steel barrel with nitride finish; machined aluminum DDA free-float octagon HEX or KeyMod forend; Magpul MOE Stock and rubberized MOE+ grip; Magpul MBUS polymer flip-up sights; DDA Tri-Comp Precision Muzzle Brake and quite a respectable owner's kit! DDA gets a solid OORAH out of me! I can't wait to spend a little quality trigger time with this Devil Dog! MSRP: $1,999.99 www.devildogarms.com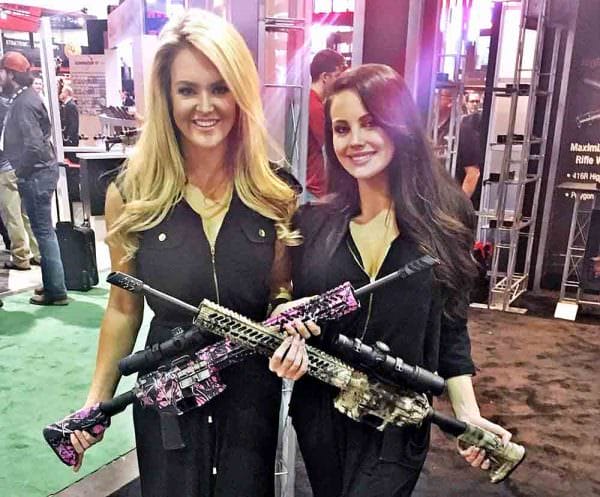 Sharps .25-45 is at it again… and I LIKE IT! A ton of change? No. Same core rifle? Yes. Minor changes? A few. But, one easily overlooked modification is sure to blow your MSR mind. The Sharps Rifle Company .25-45 walks an aggressive, innovative line sure to leave even the likes of Mathew Quigley in awe with a seemingly bulletproof proprietary finish on the .25-45's bolt carrier group. When company president, Jay Lesser, first described the finish at SHOT Show, he backed up his claims by producing a prototype BCG (pictured below) after the parts had cycled through over 13,600 rounds; that's over 27,000 strokes! To my amazement, I could not pick out a single defect on the carrier, bolt, bolt face, lugs… seriously, NO damage; it still looks brand new!
The news gets even better. Lesser confirmed the 2017 run of .25-45 rifles include Sharps Rifle Company's new, game-changing, patent-pending XPB Bolt Carrier Group as a standard! The XPB BCG is machined from S7 steel, subjected to a proprietary 24-hr thermal cycle and finished with a diamond-like-carbon (DLC) coating. While a BCG isn't exactly eye candy. The rifle, as a whole, certainly is and it's been turning heads for a couple years now and was as true in 2017 as it was last year.
While the SRC .25-45 was stunning and aggressive dressed in black and stainless steel, including a sweeping Diamondhead VRS-T handguard, the new models exhibited in the SRC booth were wrapped in my favorite color… camo. Lesser confirmed the .25-45 is currently available in numerous rubberized camo finishes, including one of my favorites, Kryptek Highlander, Muddy Girl and others. 2017 models incorporate precision turned 18 – 20 in. 416R barrels in SS and black finishes, Diamondhead T-Brake and VRS-X 13.5-in. KeyMod Handguard with full picatinny top rail.
Last year, I mentioned that, given an option and were the cartridge available during my eight years of Marine Corps service, I would have chosen it hands-down over the 5.56. With virtually no felt recoil, my testing revealed significantly better ballistics over longer range than the popular 55gr .223. My personal experience with this rifle since personally ordering one last spring has been remarkably comfortably shooting using 87gr SRC ammo, consistent MOA or better grouping (Personal best: 1/2-in. clover leaf at 100 yds. with a bipod and squeeze bag) and a crisp, breaks-like-ice trigger I would love to see the .25-45 cartridge gain traction. Last year, the Sharps .24-45 was one of my 0.S+69HOT Show favorites. With the 2017 SHOT Show in the proverbial rear view mirror, my opinion hasn't changed one iota… still a fan here. MSRP: $1,719.99 www.srcarms.com
From personal defense to tactical operations, recreational shooting to professional competitions and from small varmints to waterfowl, upland birds turkeys and even big game, shotguns offer, potentially, the most diverse range of uses… for the most diverse range of people.
The TR Silver Eagle XT3 accomplishes two things for me. First, it's a shotgun and resonates with me because, as mentioned, of its truly wide ranging application. Second, as a .410, the semi-automatic XT3 brings a ton of fun back to low-caliber shotgun shooting, especially the added challenges of shooting clays or other targets. Third, the more compact, semi-auto platform provides a great in-home personal defense solution. Finally, if you think for a second I wouldn't be out there hunting small game and birds, even meat hogs and possibly deer at some point with slugs, you would be seriously mistaken.

The XT3 caught my wandering eye with its scary black, super sexy good looks… on a shotgun and, ultimately, the rifle's everything-Hillary-Hates aggressive AR-styling. Seriously, what's not to like about a shotgun with a muzzle brake and 5-round detachable magazine?
Lubed with the liberal anti-gun, anti-2A tears of whiners like obama, killary, pelosi, schumer and feinstein (their names are not deserving of capitalization), the tactiCOOL MSR platform TR Silver Eagle XT3 .410 Shotgun delivers exceedingly fast semi-auto fire fed by a gas-piston system and bottom-fed 5-round magazine; in fact, the XT3 comes standard with two magazines as well as inserts to reduce capacity to two shells.
The XT3 also features a precision machined and weldless build design; Stainless steel 18.5-in. barrel; removable muzzle brake; AR-style fixed stock; carrying handle, complete with a rear sight and reminiscent of the one on my ol' trusty M16-A2 service rifle; fixed front sight; and one of the most comfortable pistol grips ever to welcome my grubby paw. The XT3 Tactical .410 includes also includes a sling and hard case. I hope to spend some quality time with the XT3 in the future and, at a MSRP of just $639, it seems like a lot of bang for your cost-conscious buck. www.trimports.com
About Kevin Reese:
Kevin is an award-winning outdoor writer, photographer, videographer, speaker, host of Global Outfitters TV Show's GO Tips and a Marine Corps veteran. He owns and administers www.mainbeammedia.com and Main Beam Blog at blog.mainbeammedia.com. The Main Beam Blog offers great articles, press releases, outdoor industry news and reviews.