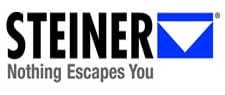 GREELEY, Colo. -(Ammoland.com)- One of Steiner's most powerful hunting optics, the HX Series binocular line, now features a 15x56mm model.
The strong 15x magnification and larger objectives provide exceptional clarity when spotting your target at long ranges.
The HX 15x56mm is tripod mountable to make remote views rock-steady.
The HX Series is known to offer optical design that provides users with bright, crisp images for any hunting challenge from high plains to lowland bogs.
The HX 15x56mm is fog proof and waterproof down to 16 feet.
The binoculars feature Fast-Close-Focus to minimize the rotation on the focusing wheel for sharper images at various distances. Steiner has also implemented its ever-popular ergonomic eyecups to reduce eye fatigue created by peripheral light, wind and dust.
To withstand weather conditions in any part of the world, the HX Series features Steiner Nano-Protection hydrophobic molecular coating, creating a lens surface that repels water and is resistant to dirt, dust and fingerprints.
The N2 Injection System pressure seals the binoculars for ultimate waterproof protection, and the ergonomic Makrolon housing combines a durable polycarbonate frame with NBR Long Life rubber armoring for a light, tough chassis.
HX 15×56 Features:
Model: 2018
Size: 15x56mm
Height: 7.1 in.
Width: 5.6 in.
Weight: 44.1 oz.
F.O.V. (1,000 yards): 241 ft.
MSRP: $1,379.99
As with all Steiner optics, the HX Series is covered by the industry-leading Steiner Heritage Warranty – Steiner's promise of the highest standards of quality, dependability and customer satisfaction.
For more information about all of Steiner's products, visit their website.
About Steiner:
For 70 years, Steiner has made trusted optics and eOptics for life's defining moments. The successful pursuit and capture of these moments demands the fast and precise detection, location and identification of a distant objective. Whether the objective is wildlife, a marine bearing, law enforcement suspect or military combatant, Steiner products enhance an individual's most important sense, vision, so that on land or sea –– Nothing Escapes You.
For more information, visit the company website or Facebook.