By Josh Wayner
Josh dose some shooting range investigation to figure out what is the real purpose of the Smith & Wesson Performance Center Model 327 Revolver.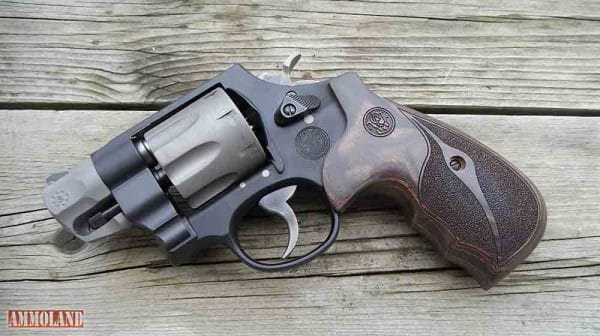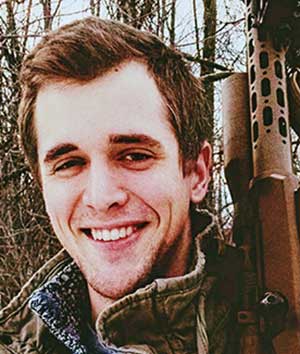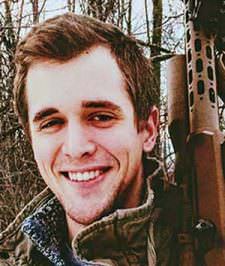 U.S.A. –-(Ammoland.com)- It could be said of me, with pretty decent accuracy, that I spend a great deal of time around firearms and have a very good grasp of what makes certain guns good or, well, not so good.
When it comes to selecting things to review I occasionally like to pick guns that I see as a bit of an oxymoron.
Enter the Smith & Wesson Performance Center Model 327 Revolver. This revolver is a somewhat odd-looking addition to the famous line of PC guns.
What drew me to the weapon was the combination of features that make it a one-of-a-kind offering in our present market.
Smith & Wesson Performance Center Model 327 Revolver
The pistol is an 8-shot .357 Magnum that can be loaded with full moon clips or with individual rounds. Right from the get-go, this pistol is crammed with unique features. The business end of the pistol features a 2" stainless steel barrel shrouded in titanium. The barrel is of match quality and delivered spectacular accuracy at 25 yards from the bench.
Curiously, the sights are not target adjustable. The front sight is windage adjustable only. My example was dead on right out of the box with any load I tested.
Moving on to the 327's frame, one will notice the even black finish of the ultra-light Scandium. The black contrasts well with the dull grey of the titanium cylinder and barrel shroud. When I say ultra-light, I mean ultra-light. This pistol barely tips the scales at a feathery 23oz.
Finishing out the piece is another curious feature: a full-size set of wood grips. Why not the more compact grips common to similar snub-nose revolvers? I wondered the same thing until I began to put the puzzle together for myself.
This Smith & Wesson Performance Center Model 327 Revolver was something of a mystery to me as I didn't really see a real end-user in mind. The gun isn't exactly small with its large N-Frame, but it is light. It is match-accurate, but the sights aren't adjustable. The trigger and action are as light and crisp as those on a competition revolver and it has the same quick loading moon clips to boot. So what exactly was this gun?
My range trips gave me a clear picture of the true utility of this unique weapon. This very well may be one of the best hiking guns for the lower 48 and even into the Alaskan wilderness. The loaded pistol is nearly unnoticeable when carrying it in a chest-mounted Hill People Gear Heavy Recon Kit Bag. I logged a few miles in the woods carrying it this way and was pleasantly surprised that I nearly forgot it was there when moving. When it is time to draw, there is no long barrel to get in the way, but rest assured that when the sights are lined up and the crisp trigger is pulled, your bullet will go exactly where it is aimed.
The features that seem unnecessary are the saving grace of this gun. The ability to load quickly with full moon clips gives this pistol the same reloading speed as an automatic and all the power of eight rounds of .357 Magnum in one serving. Reloading this gun with gloves is substantially easier with moon clips and shooting it accurately in a hunting situation is fully possible thanks to the full-size grip and fine single-action pull.
Smith & Wesson Performance Center Model 327 Revolver Cons
So you're probably wondering what some of the cons of this pistol are at this point. I will say that the cons are fully outweighed by the pros given what I picture the intended use to be, but I will go over them anyways.
Recoil is a bit much. I fired two Hornady .357 Magnum loads and one Hornady .38 Special variety out of this gun and found them to be, shall we say, interesting. The Hornady Custom 158gr XTP .357 load generated an average of 1098fps from the muzzle and generated what I would describe as 'alarming' recoil. Eight shots in rapid succession of either .357 load weren't exactly easy on the wrists. The Critical Duty 135gr load was a bit easier to handle and had an average of 1209fps at the muzzle.
I know that recoil is a big factor for lots of people, but the light weight of the pistol in carry far supersedes any momentary hand fatigue should you need to fire it in self-defense.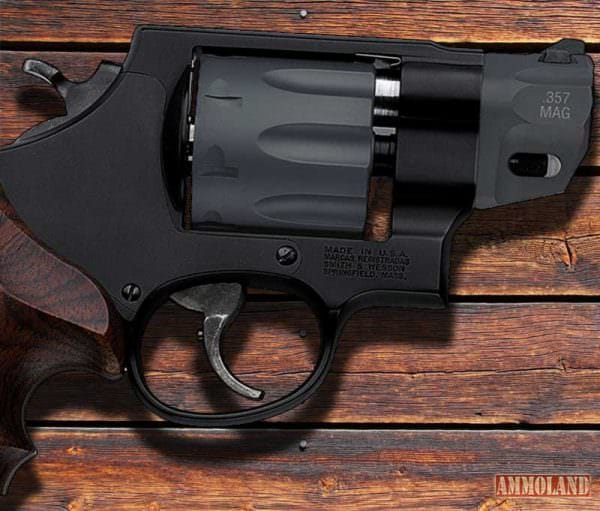 I found, not surprisingly, the .38 loads to be much easier to shoot out of the pistol. Hornady's 110gr FTX left the muzzle at an average of 878fps. The light weight of the weapon still made firing noticeable to the hands. I came to the conclusion that this pistol was essentially a large, match-grade J-Frame in terms of general firing characteristics.
My last complaint about the pistol is the grips. The size of the grips themselves is great for a hiking gun, however the grip material is far too smooth for the power this gun can generate. I believe that it would be far better off with either a set of soft rubber grips or something with a more aggressive texture to prevent slippage in the hand under recoil.
All in all, the Smith & Wesson Performance Center Model 327 Revolver is a fantastic weapon for the right person. The pistol demonstrated remarkable consistency over the Oehler 35P Chronograph and was truly what I'd call a match-grade weapon, easily turning in 2" groups for eight shots at 25 yards. Lockup was tight and timing was as precise as a nuclear clock. I didn't break a sweat carrying this weapon in my hiking gear and would likely select it over a larger and heavier steel-frame pistol if I was fly-fishing in bear country or blazing trail. You lose nothing except ounces with the 327 and it certainly fills a gap for the discerning outdoorsman or adventurer.
About Josh Wayner:
Josh Wayner has been writing in the gun industry for five years. He is an active competition shooter with 14 medals from Camp Perry. In addition to firearms-related work, Josh enjoys working with animals and researching conservation projects in his home state of Michigan.