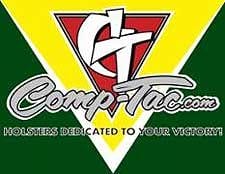 HOUSTON, Texas -(Ammoland.com)- Comp-Tac Victory Gear, a leading manufacturer of quality concealed carry holsters, competition holsters and firearms accessories have expanded their holster fits to accommodate the new Sig P320 X Five firearm.
Comp-Tac has seen a huge demand for holsters for all the Sig firearms. The newest variant of the P320 line the Sig P320 X Five, which is 5" long, now has a holster fit available from Comp-Tac.
The International is an outside the waistband holster with a modular mounting design giving the user 16 holster options in 1. Intended to be worn at 3:00 this holster is perfect for competition shooting, concealed carry or general use.
The Sig P320 X Five holster joins the complete line up of Comp-Tac holsters for the P320, including; the Full Size, the Compact, Subcompact and RX models.
Concealed carry holsters for inside the waistband, outside the waistband and appendix carry, competition holsters and magazine pouches Comp-Tac is proud to offer options for customers all over the world.
"Comp-Tac works hard to stay on top of all the new firearm releases. There is nothing more frustrating than buying a new firearm, wanting to carry it and not being able to buy a holster. Our customers have let us know that they are looking for holsters and we have been able to continue offering them products for all firearms and are excited to add the P320 X Five to the list," stated Gordon Carrell, Comp-Tac's General Manager. "All of your every day carry gear is important whether it be for new guns or old."
About Comp-Tac Victory Gear, LLC:
Comp-Tac Victory Gear, LLC combines experience in personal protection and the tactical applications combined with the love of pistol shooting competitions into every product they develop. Comp-Tac strives to deliver high value, quality solutions and improvements at the best price. With satisfaction a top priority, we ensure speed, quality and superior customer service to support your desire to take responsibility for personal safety, security and recreational firearm use.