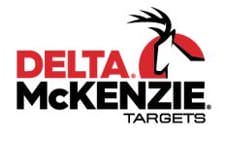 USA -(Ammoland.com)- Delta McKenzie, known for hunting and competitive archery targets, introduces patent-pending 3D deer target ideal for hunting season practice—the Big Daddy Buck.
Anyone that's used a 3D animal target has experienced the frustration of trying to pick up the target only to have it come apart.
The Big Daddy buck is different because it uses a new, innovative cross-body dovetail design that provides more stability through the thousands of shots a target endures.
The Big Daddy features universal scoring on one side and heart vital shot placement on the other to make it versatile for tournament or hunting practice. The oversized body uses Duraflex self-healing foam and provides easy shot placement recognition.
The large size target is designed to replicate a 250+ pound whitetail with replacement body available and can be used with field points or broadheads.
Big Daddy Buck Features:
Quick, easy-to-assemble, patent-pending horizontal dovetail locking legs
Large, fully mature whitetail buck
100 percent solid, self-healing foam construction
Easy arrow removal
For use with field points or broadheads
Features both universal scoring and vital rings for shot placement
Lifelike 3D realism
About Delta McKenzie:
There are many distinctive features that define Delta McKenzie Targets – uncompromising quality, distinctive design, great durability and performance, and a top notch shooting experience. Yet it's the combination of our two brands that makes our targets so unique.
For more information, visit their website.