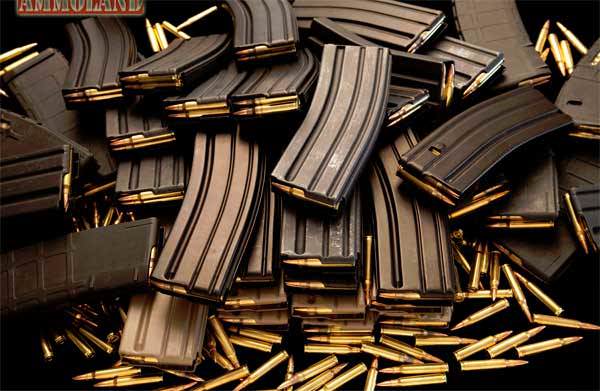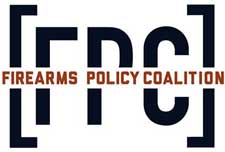 FRESNO, CA –-(Ammoland.com)- Today, attorneys for 7 individual gun owners and 4 civil rights advocacy organizations have filed a federal lawsuit challenging the State of California's ban on so-called "large-capacity" firearm magazines that hold more than 10 rounds "on their own behalves, and as representatives on behalf of the class of individuals who are or would be affected by the Large-Capacity Magazine Ban."
The civil rights case, captioned as William Wiese, et al. v. California Attorney General Xavier Becerra, et al., was filed in the United States District Court for the Eastern District of California, Fresno Division, and is supported by civil rights groups The Calguns Foundation (CGF), Second Amendment Foundation (SAF), Firearms Policy Coalition (FPC), and Firearms Policy Foundation (FPF).
A copy of the lawsuit's complaint and its exhibits can be viewed or downloaded at http://bit.ly/wiese-becerra-complaint.
Last year, California Governor Jerry signed into law Senate Bill 1446 (SB 1446), which changed state statutes to completely ban law-abiding people from possessing all "large-capacity" firearm magazines as of July 1, 2017. Following that, Lt. Governor Gavin Newsom's Proposition 63 (Prop 63) "Safety For All Act" gun control initiative—which also contained language banning "large-capacity" magazines—was passed by voters in the November general election.
Prior to Proposition 63 and SB 1446, thousands of law-abiding Californians could possess legally-owned ("grandfathered") large-capacity magazines, but now must remove them from their possession or ownership in the State by July 1 at their own expense or face criminal liability and fines.
The plaintiffs believe that the State's ban violates their constitutional rights, including their fundamental, individual right to keep and bear arms protected under the Second Amendment, because magazines are "an intrinsic part of all semi-automatic firearms" and "are not merely individual pieces of personal property, but rather, are intrinsic and inherent constitutionally-protected parts of constitutionally-protected firearms."
In a "Finding of Emergency" for related firearm magazine regulations it had sought to issue in December (attached to the complaint as Exhibit A), the California Department of Justice admitted that "[t]here are likely hundreds of thousands of large-capacity magazines in California at this time" and that the "Department therefore expects many gun owners to be affected by the new ban."
In addition to its Second Amendment claims, the lawsuit "further challenges the Large-Capacity Magazine Ban statutory scheme which would…. subject thousands of law-abiding gun owners to criminal liability and sanctions, and subjecting their lawfully-possessed personal property to forfeiture, seizure and permanent confiscation, without due process or compensation."
The case also includes vagueness challenges, one of which centers on the confusion surrounding the State's two active—but very different—chaptered versions of Penal Code § 32406. A number of exemptions to the ban are found in the active Section 32406 that was enacted under SB 1446, but the active version of Section 32406 enacted by California voters under Prop 63 contains far fewer exemptions.
Gun Pistol Magazines

"California's magazine ban laws violate the constitutional rights of law-abiding people in many ways," said attorney George M. Lee, a partner of the plaintiffs' San Francisco law firm Seiler Epstein Ziegler & Applegate LLP. "Not only does the ban infringe on Second Amendment rights, but it is clearly now a taking of private property. In fact, as we contend in the complaint, it amounts to a de facto confiscation."
Lee also takes issue with the way the new magazine ban affects people who have lawfully possessed "grandfathered" magazines since before the original ban on importation in 2000. "As a part of the legislative compromise associated with that original ban, owners of those grandfathered magazines were specifically exempt from the law," he said. "The Legislature is basically reneging on that deal made many years ago."
"The State of California's ban scheme stands for the proposition that most any personal property can simply be taken away from you or forced out of your possession without due process or just compensation by legislative fiat," commented CGF Chairman Gene Hoffman. "Today it's firearm magazines, but tomorrow it will most certainly be some other constitutionally-protected private property."
"Enforcement of this ban," explained SAF founder and Executive Vice President Alan M. Gottlieb, "would immediately place thousands of law-abiding California gun owners in jeopardy of criminal liability and subjects their personal property to forfeiture, seizure and permanent confiscation, which is government taking, without due process or compensation. We cannot allow that to go unchallenged."

"California's magazine laws will turn many thousands of good, law-abiding people into criminals," said Brandon Combs, president of FPC and chairman of FPF, "but do nothing to advance public safety.

"While California's political leadership might prefer some kind of police state without any Second Amendment or property rights, we believe that the Constitution takes their policy preferences off the table. This lawsuit is one of many that we hope will help restore fundamental freedoms in the Golden State and across the nation."
Douglas A. Applegate, also of Seiler Epstein Ziegler & Applegate LLP, joins Lee on the case as co-counsel.
ABOUT THE ORGANIZATIONS:
The Calguns Foundation (www.calgunsfoundation.org) is a 501(c)3 non-profit organization that serves its members, supporters, and the public through educational, cultural, and judicial efforts to advance Second Amendment and related civil rights.
Second Amendment Foundation (www.saf.org) is the nation's oldest and largest tax-exempt education, research, publishing and legal action group focusing on the Constitutional right and heritage to privately own and possess firearms. Founded in 1974, The Foundation has grown to more than 650,000 members and supporters and conducts many programs designed to better inform the public about the consequences of gun control.
Firearms Policy Foundation (www.firearmsfoundation.org) is a 501(c)3 grassroots nonprofit organization. FPF's mission is to defend the Constitution of the United States and the People's rights, privileges and immunities deeply rooted in this Nation's history and tradition, especially the inalienable, fundamental, and individual right to keep and bear arms.
Firearms Policy Coalition (www.firearmspolicy.org) is a 501(c)4 grassroots nonprofit organization. FPC's mission is to defend the Constitution of the United States, especially the fundamental, individual Second Amendment right to keep and bear arms, through advocacy, legal action, education, and outreach.