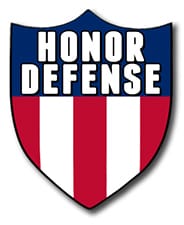 USA -(Ammoland.com)- Police officers perform under some of the most grueling conditions while protecting and serving the people of the United States, with between 140 and 160 officers committing the ultimate sacrifice every year.
As such, Honor Defense, maker of the American-made Honor Guard 9 mm handguns, recently partnered with Pittsburgh Cerakote and Kester Farms Tack to auction a custom Honor Guard handgun to benefit Concerns of Police Survivors (C.O.P.S.).
The handgun featured a Blue Line Cerakote finish and came with a hand-made holster. The donation makes Honor Defense a Blue Ribbon Sponsor of National Police Week.
"Police officers put their lives on the line by standing between citizens and criminals," said Gary Ramey, Honor Defense president. "We are humbled by this opportunity to support those officers and their families who sacrifice everything for other people's safety."
In 1962, President John F. Kennedy signed a law designating the day of May 15th would represent Peace Officer's Memorial Day, and the week of May 15th as National Police Week.
Then, in 1994, President Bill Clinton signed a law directing the United States' flag be displayed at half-staff on all government buildings every year on May 15th.
This year, National Police Week begins May 13th, with a candlelight vigil at the National Law Enforcement Officers Memorial at 8 p.m., and at 9p.m., a reading of the newly engraved names. C.O.P.S. (www.nationalcops.org) hosts the National Police Survivors' Conference from May 14th to May 16th at the Hilton Alexandria Mark Center, which includes guest speakers, debriefing sessions and a kids/teen program for surviving children and siblings of fallen officers.
The Fraternal Order of Police and Auxiliary hosts the National Peace Officers' Memorial Service on the lawn of the U.S. Capitol on May 15th, with surviving family members placing flower wreaths. The conference ends with a Picnic on the Patio, with dinner, games, music and more.
To learn more about Honor Defense, please visit their website.
About Honor Guard:
Honor Defense firearms represent the next generation of modular handguns. Honor Defense firearms have more features than any other sub-compact pistol. Every part is manufactured in the U.S.A. to our highest standards. You can't buy a better pistol right out of the box. To create their pistols, Honor Defense secured input from a panel of professionals that have defended our nation or have extensive credentials in self-defense training.
For more information, please visit their website.