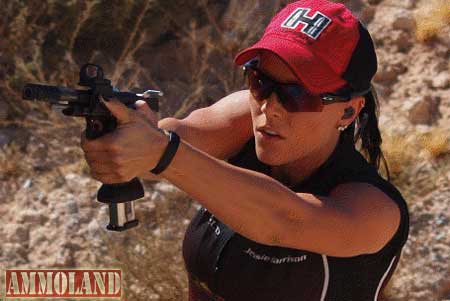 MIAMI, Fla. -(Ammoland.com)- Taurus USA congratulates Grand Master and Taurus Team Captain Jessie Harrison-Duff on her recent High Overall Lady title during the World Speed Shooting Championships, May 4th – 6th at the SLOSA Hogue Action Pistol Range in San Luis Obispo, California.
The Steel Challenge match attracted over 100 competitors to this prestigious shoot that is now over 30 years old, awarding prizes and cash payouts to those competing.
With eight stages set to the Steel Challenge Shooting Association (SCSA) format, shooters are driven to focus on speed and accuracy.
Jessie competed in Open, Single Stack and Rimfire, emerging as the High Lady Overall for the entire match. This marks her tenth Ladies Open World Speed Shooting title.
After the match, Jessie commented, "Each year I look forward to competing at the World Speed Shooting Championships. The challenge that I am faced with from this highly competitive fields drives me to train harder, both mentally and physically. I am humbled at the support given to me by my sponsors and fellow shooters. My Taurus 1911 has been very kind to me!"
Jessie's next match will be the Single Stack Nationals May 17-20, 2017 in Barry, Illinois.
About Jessie Harrison-Duff:
Jessie Harrison- Duff has taken her shooting career from a beginner, all the way to a top-ranked professional, earning multiple World and National Champion shooting titles, in five different shooting disciplines. Among these are the prestigious Bianchi Cup and the World Speed Shooting Championships. Jessie has also ranked in numerous regional and state champion matches. Reaching this level of shooting performance in her career, defines a well-disciplined competitor and role model for the Taurus Shooting.
For more information, visit her website.
About Taurus USA:
Taurus USA continues to evolve and produce revolutionary new products. In addition, new standards for quality and efficiency have helped deliver reliable and affordable guns to the market.
For additional information, visit their website.