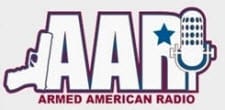 U.S.A. –-(Ammoland.com)- U. S. Representative Barry Loudermilk (R-GA) will join host Mark Walters today (Friday 6-23-2017) at 4 pm ET on nationally syndicated AAR's Daily Defense program to discuss the recent targeting of Republican representatives by a crazed left-wing lunatic and the subsequent calls for members of Congress to be able to carry guns in the District to protect themselves.
Rep. Loudermilk who was on the scene that day and thankfully uninjured was one of the first to make an immediate call for what appeared to be a special carve out for politicians to carry firearms while continuing to leave the rest of law-abiding America disarmed. In a statement he said:
"I think we need to look at some kind of reciprocity for members here," Loudermilk said. "But also we need to look at security detail. If Scalise hadn't been on our team, it would have been really bad."

"We aren't any more special than anybody else, but we're targets," Loudermilk said.
Mark Walters, the host of two popular, nationally syndicated, pro-gun rights radio broadcasts, was quick to jump on the comments as politicians "looking out for thee but not for me."
Walters said, "As a resident and constituent in Loudermilk's district, I was extremely disappointed to read those seemingly elitist comments. Rep. Loudermilk supports my right to carry and has worked hard to protect our right to bear arms and is also a co-sponsor of the Concealed Carry Reciprocity Act of 2017. I am pleased that he is joining me on air today and I look forward to his clearing up any confusion as to whether or not he also supports the right of every American, not just the few Washington elite."
Walters will re-air the Friday segment with Rep. Loudermilk on his huge Sunday evening broadcast as well.
About Armed American Radio:
Armed American Radio is the official, nationally-syndicated radio program of the USCCA. The U.S. Concealed Carry Association (USCCA) provides education, training and self-defense insurance to responsible American gun owners. Headquartered in West Bend, WI, the USCCA is the largest and fastest-growing association whose sole focus is the responsibly armed American