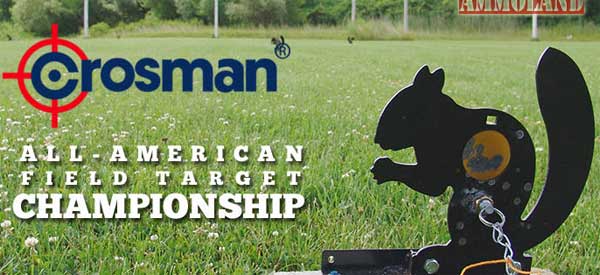 USA –-(Ammoland.com)- Registration for the 2017 Crosman All-American Field Target Championship, which will be held July 21-23, 2017 in Rochester, NY closes on July 18, 2017 at 11:59 PM EST.
Airgun competitors can register online through today for the three-day competition which features multiple shooting matches including the main two-day rifle event.
"We are extremely excited to host the the All-American Field Target Championship this weekend." says Communications Manager, Jason Reid. "Having a full weekend dedicated to competition among some of the most passionate air gun shooters in the world not only promotes great camaraderie but showcases the highest level of skill in the airgun community."
The Crosman All-American Field Target Championship will be held once again at the Rochester Brooks Gun Club. There are five divisions and classes for competitors, Open, Hunter, WFTF, Freestyle and Pistol. In addition to the main rifle event, this year will also feature a pistol match, the Quigley Bucket Match and the Pyramyd Air Gunslinger match.
"The Crosman All-American Field Target Championship is one of the must-attend events for Field Target airgunners of all experience levels," says Shooting Sports Manager, Mark DeBoard. "We have nearly 80 shooters signed up to participate this weekend and everyone here at Crosman is looking forward to a great match."
Those wishing to register can do so online today by visiting www.crosman.com/connect/crosman-field-target-championship/. The list of registered participants is also available at www.crosman.com/connect/2017-crosman-all-american-field-target-championships/. Every registered participant is invited to the Friday night reception and receives a gear bag and food vouchers.
About Crosman :
The Crosman Corporation roots began with a simple mission of quality and innovation. From its inception, Crosman's principal products have served the shooting sports, primarily airguns and airgun ammunition. Today, Crosman has a diversified product lineup that includes Crosman and Benjamin Air Guns and the CenterPoint Optics and Archery brands. Follow Crosman on Facebook, Instagram and Twitter. For more information contact Jason Reid at [email protected] or by calling 585.657.6161.