By John Crump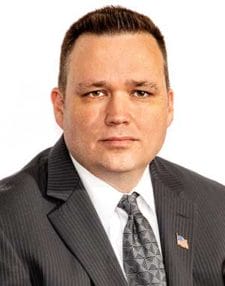 U.S.A. –-(Ammoland.com)- I recently got the frame of my Gen 3 Glock 17 customized by Chris Damato of Damato Custom Stippling.  Chris knocked it out of the park with his stippling job on the Glock 17.  
I decided to keep the customizing going on the Glock 17, but there are so many thing to be customized on it I didn't know what to do next. In the end I decided to stick with the aesthetic features of the Glock before moving to the mechanical.
The slide would be the next logical progression in the transformation of my custom Glock 17 Pistol.  This modification will not only look cool, but if done right might also lighten up the weight of the slide.  
There are a lot of companies out there that do custom work on slides.  The work of some companies can be questionable at best.  If I wanted my slide done then I would want it done right. I spent a few days looking around before settling on a company to do the work on my gun.
I am sticking with the small company theme, like I did with the frame of the G17, so I did not want to go with a big company such as Agency Arms even though they do an incredible job, and one day I will have them do up a gun for me.
There was one small company that I kept running across over and over again when searching for slide customization. Their work just stood out to me as very high quality and very professional. That company was M.K.P. Arms out of Minco, Oklahoma.   They offered to do the slide work for me so I could review it for AmmoLand News readers that are thinking of getting their slides worked on by them.
M.K.P. Arms Custom Slides
I worked directly with Steven McDaniel who is the owner of M.K.P. Arms.  He has been a machinist and programmer working in the aerospace and oil industry for 11 years.  In 2014 against his wife's will he quit his day job to start M.K.P. Arms which he named using the first initial of each of his children's names .  He purchased a CNC machine and has been growing ever since.
The goal of M.K.P. Arms is to offer quality service at an affordable price.  To that extent, Steven does every cut on every project himself.  After talking to Steven I felt really comfortable with his vision even though I told him to keep most of the details from me until the slide was finished.  His website has a large gallery of sides that he has customized so I had an idea of what he would do.  
The only thing that I asked was that the slide had to have a cut to mount my Vortex optic on the gun.  
I filled out a simple form and sent my slide away via USPS.  A few days later Steven let me know he received it and had a final plan for it.  I couldn't wait to see what he had planned for my slide, but I didn't want to rush him, and I didn't ask any questions.  I also didn't want to see it before it was finished so I asked him to hold off on any pictures.  His designs blew my mind online, and I didn't see a single one I didn't like so I had very high expectations of the work he would do.
A few days later I got an email from Steven to let me know that the cuts to fit the handgun mounts for the optics were done.  I was excited to see it, but decided to still hold off on looking at pictures for a little longer.  This is the most important thing on the slide for me.  
If the optic cut is off I would be out of a good slide, but when I got the slide back the measurements were spot on.  Since my Vortex optic isn't in yet I had to check with a friend's optic.  I will be reviewing a vortex optic in the near future.  It should arrive next week.
After the optic cut Steven from M.K.P. Arms then made slanted grooves on the front of the slide going across the side and the top to the opposite side.  This made the slide really pop.  It really stands out from the boring stock Glock slides I am used to.   
I have a tin barrel color coming in so Steven cut reliefs in the sides and top of the slide to show off the barrel when it comes in.  These cuts were done in such away that the slide and the barrel will blend together.  This is a great touch and something I was hope for.  It shows that Steven and M.K.P. Arms really listen to their customers and he figures out what they want, even if the customer does not know, or does not say what they want.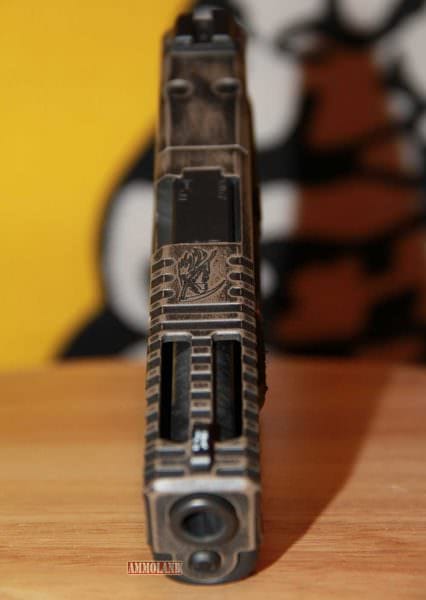 Steven does in house cerakoting.  He did a battle worn finish.  It looked stunning on my Glock.  It really completed the slide.  In all honesty I didn't know if I was going to like it or not.  In the end I didn't like it, I loved it!
Overall I could not be happier with the way my M.K.P. Arms Custom Custom Glock 17 slide came out.  I would recommend M.K.P. Arms to anyone looking to get their firearm's slide customized.  Steven did a great job on the work and on the communication.  Even better than a lot of high end companies could  do. I have a few more projects I am going to get him to help me on.
Steven of M.K.P. Arms says he considers himself a machinist that works on gun slides, but he is truly much more than that.  He is truly an artist in every sense of the word.  From his vision to his execution everything went perfectly.  I took the Glock 17 to the A*B Arms media day show and got a lot of positive comments on it.  Steven's work along with the work Chris Damato of Damato Customer Stippling the custom Glock 17 is really coming along.  I can't wait to see where this project ends up.  I just need to name it now.

About John Crump
John is a NRA instructor and a constitutional activist. He is the former CEO of Veritas Firearms, LLC and is the co-host of The Patriot News Podcast which can be found at www.blogtalkradio.com/patriotnews. John has written extensively on the patriot movement including 3%'ers, Oath Keepers, and Militias. In addition to the Patriot movement, John has written about firearms, interviewed people of all walks of life, and on the Constitution. John lives in Northern Virginia with his wife and sons and is currently working on a book on the history of the patriot movement and can be followed on Twitter at @crumpyss or at www.crumpy.com.