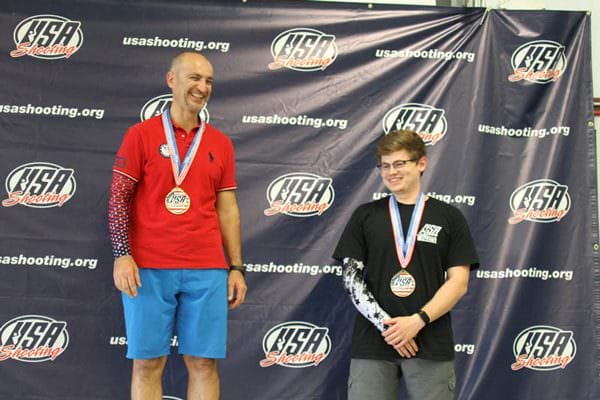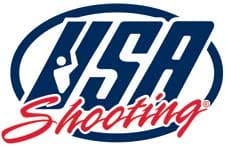 FORT BENNING, Ga. -(Ammoland.com)- Six-time Olympian and 1996 Olympic silver medalist Emil Milev defended his Rapid Fire National Champion title today with his win at the USA Shooting National Championships for Rifle/Pistol.
Milev (Temple Terrace, Florida, pictured left)) was leading at the end of two days of Qualification with a combined score of 1145. Once in the Final, Milev tied Olympic teammate Keith Sanderson (Colorado Springs, Colorado) on his final series, leaving the Final to be decided in a shootoff. Milev won the shootoff five hits to Sanderson's four.
Though the outcome of the Finals wouldn't necessarily determine medals, points from the two Qualification matches, plus points earned based on rank in the Finals were combined to determine athletes' final placements at these National Championships.
Sanderson would go on to claim the silver medal and Alex Chichkov (Temple Terrace, Florida, pictured right) earned the bronze. All three athletes also earned appointments to the USA Shooting National Team.
Tony Chung (Diamond Bar, California) won his second gold medal of this National Championships by winning the Junior Men's Rapid Fire Pistol event. Chung also won gold earlier this week in Junior Men's Sport Pistol. Twelve-year-old Paul Kang (Los Angeles, California) won silver and Kevin Bennett (Belmont, Massachusetts) won bronze. Chung and Kang also earned appointments to the National Junior Team.
Competition in Men's Air Rifle and Women's Three-Position Rifle also began today, with Finals and another day of Qualification to be contested tomorrow. After the first day of Men's Air Rifle Qualification, Dempster Christenson (Sioux Falls, South Dakota) currently holds a 2.6-point lead on 2016 Olympian and new Three-Position Rifle National Champion Lucas Kozeniesky (Fairfax, Virginia). Ivan Roe (Manhattan, Montana) is just .7 points back in third place.
In Women's Three-Position Rifle, Hanna Carr (Versailles, Kentucky) has a six-point lead on Ariana Grabowski (Beaver, Pennsylvania). New Women's Air Rifle National Champion Alison Weisz (Belgrade, Montana) is currently in third, two points behind Grabowski.
Action at the USA Shooting National Championships for Rifle/Pistol and WSPS-sanctioned match continues through Sunday. More than 350 athletes from across the country have descended on the home of the U.S. Army Marksmanship Unit in Fort Benning to compete for National Championship titles and appointments to the National, National Junior and National Paralympic Teams. More than 30 athletes from nine countries have come to Fort Benning to compete in the WSPS-sanctioned match.
A complete schedule for this match can be found here.
Complete results from the USA Shooting National Championships for Rifle/Pistol and WSPS-sanctioned match thus far can be found here.
About ELEY:
Eley is a Proud Sponsor of the USA Shooting Rifle and Pistol Teams: ELEY Limited, manufacturer of the world's most consistently accurate rimfire ammunition, has been the Official Sponsor and Official Supplier of .22 rimfire ammunition of the USA Shooting rifle and pistol teams since 2000.
For more information on ELEY and their products, please visit their website.
About USA Shooting:
USA Shooting, a 501c3 non-profit corporation, was chartered by the United States Olympic Committee as the National Governing Body for the sport of shooting in April 1995. USA Shooting's mission is to prepare American athletes to win Olympic medals, promote the shooting sports throughout the U.S. and govern the conduct of international shooting in the country.